VIDEO: Water flows at Anglian's new Lincolnshire reservoir
Anglian Water has started filling its new reservoir in Lincolnshire, as it switched on the pumps for the very first time.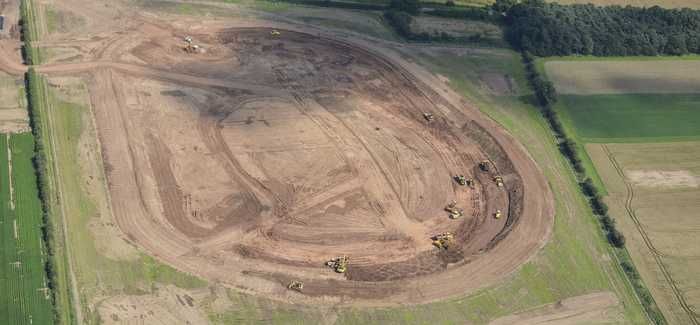 The reservoir in the early days of construction
It marks a major milestone in the completion of the £4M project to secure water supplies for the growing population and industry around Lincoln.  
Demand for water in the Lincoln and Branston area is forecast to jump from 5Ml a day to as much as 20Ml a day.
The new reservoir and treatment works near Newton-on-Trent will provide enough capacity to store and supply water for the growing number of people, protecting customers against interruptions to their supply and relieving pressure on the existing works at Newton-on-Trent.
Steve Swan, Anglian Water's special projects manager, said: "This new reservoir and treatment works is our solution to keep Lincoln's taps running in the face of an expanding population.   
"The pumps are now taking water from the River Trent to be stored in the reservoir before it's treated. The reservoir can hold as much water as 100 Olympic-sized swimming pools and will feed the new works which will be able to supply 20 million litres of treated water a day once it's operational in Summer 2014."  
Anglian Water has built the reservoir and treatment works on opposite sides of the A1133 to take advantage of the naturally sloping landscape that will move the water from the reservoir into the works using gravity.  
The location also means the treatment works is above the level of any possible future flooding, and it can connect to the mains from the existing Newton-on-Trent Water Treatment Works to supply the surrounding area.