Water firms will have to review investment to protect assets
Water companies, as some of the highest energy users in the UK, have been impacted considerably by interruptions to the power network brought about by fallen power lines during the recent stormy weather, high winds and prolonged periods of heavy rainfall, according to Met Office utilities scientific consultant Tom Francis.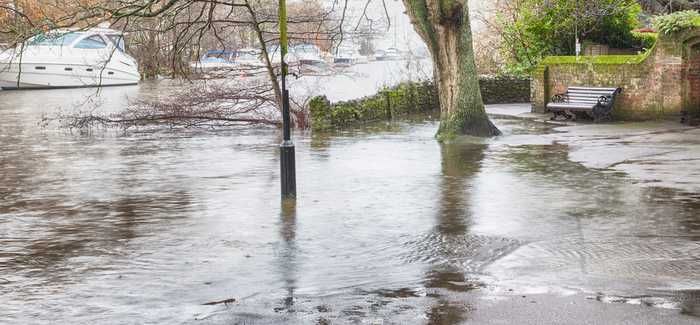 Rivers bursting their banks threatened nearby wastewater treatment plants
Commenting on the recent storms, Francis said that in addition to the financial cost associated with the clean-up operation, water utilities "will inevitably have to review whether investment to protect assets is required to mitigate the impact of such weather in the future". With the relatively mild conditions to date, water companies may also be wondering whether a sudden drop in temperatures is imminent and what the implications may be for leakage and bursts, he added.
Over the last few weeks interruptions to the electricity supply have threatened the treatment and distribution of water as control room technology, pumps and alarms have been disrupted by intermittent and sustained blackouts. 
Francis said the greatest challenges were felt at sites where back-up generators failed or were not available, requiring mobile generators to be deployed. The fuel required for running mobile units, and the unplanned overtime for staff to install and maintain them, has cost the industry − exacerbated by the Christmas and New Year holiday period. 
The higher incidence of lightning also knocked out electrical equipment and pumps across the country, requiring maintenance teams and mobile generators, again with associated costs.
On the wastewater side, the heavy, persistent rainfall across much of the UK caused many rivers to burst their banks, threatening nearby wastewater treatment works. High river levels often prevent treated wastewater from being discharged at the works and sewer overflows, which can lead to sewage backing up in the network.