Water companies urged to adopt non-asset solutions after PR19
Water companies must take the opportunity after PR19 to investigate a range of non- asset solutions to meeting the needs of their customers, and engage the supply chain in doing so, delegates heard at WWT's Water Industry Asset Management conference yesterday.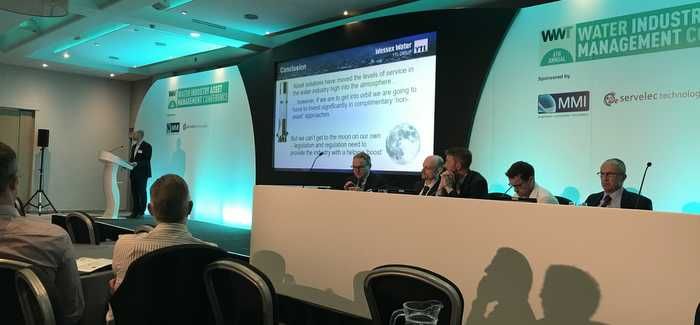 The opening panel session at the conference looked at the central challenges of PR19
Water utilities are set to submit their 2020-25 business plans to Ofwat by September 3rd, and at the core of their plans will be how to meet 14 industry-wide performance commitments and business-specific bespoke commitments covering 6 further areas, Jon Ashley, Director of Customer Engagement and Outcomes at Ofwat, outlined to the conference in Birmingham.
Performance commitments should be closely linked to customer priorities, with the regulator "expecting a step change in customer engagement," said Ashley.
Companies should remain focused on these outcomes rather than specific projects or solutions, he explained. Since Totex (total expenditure) will be allocated to achieving performance against these commitments rather than for specific projects, water companies will be encouraged to add to and amend their programme of activities in pursuit of their goals, explained Ashley. Non-asset solutions are very much part of this mix. Where innovative approaches are proposed these will attract additional incentives to recognise the additional risk the water company is taking, he said.
John Bentley, head of strategic investment at Severn Trent, said that the PR19 approach meant that water companies were being challenged to "not start with a solution in mind" but instead to talk to customers to find out what they value. "We focus a huge amount on cost but we don't think enough about value… it is quite hard to think differently, but we as a sector should welcome the opportunity."
Matt Wheeldon, Director of asset strategy and compliance at Wessex Water, pointed out that the regulator's PR19 methodology document does not use the terminology 'asset management', 'asset management period' or 'AMP7' at all, reflecting how the tide is shifting towards non-asset solutions such as catchment management, work to change customer behaviour, operational improvements and data analytics.
"If we are truly committed to taking service levels to new heights, we have to think broader than just asset solutions," said Wheeldon. He highlighted customer campaigns to prevent sewer blockages, and Wessex's EnTrade trading platform for catchment solutions, as examples of the type of thinking required. However, he said that intervention by government and regulators would be needed at times to support the industry's efforts – for example, by taking a harder line with manufacturers of wet wipes and unflushable products for their effect on sewers.
Data analytics would need to be crucial to water company plans to improve performance, he added. He drew the analogy of a mission to the moon, and said that if asset solutions were the large first stage rocket that helped escape the earth's atmosphere, then data analytics would be the targeted lunar module that could help negotiate the precise final leg of the journey.
"Arguably, some service standards will not be possible to meet without a better understanding of data to support decision-making," said Wheeldon.
The conference heard from several speakers about the 'Totex hierarchy' of interventions that would be required to meet performance targets – considering solutions that make assets redundant, that operate assets more effectively or that extend asset life, before the final resort of building new assets. Expertise from the supply chain would need to be brought in at an early stage to help these options be considered fully and come up with collaborative answers, rather than at the final stage where assets are being planned and built, it was agreed.
Richard Price, Strategic Projects Director at Bristol Water, said that it was important that water companies adopted a properly collaborative, risk-sharing approach with the supply chain in solving AMP7 challenges and that this does not take the form of water companies "dumping risk" on Tier 1 contractors.
"It's important to allocate asset lifecycle risks to the party most capable of managing them – and 'allocate' does not mean 'dump'," said Price. "As an industry we've lost some key suppliers because they weren't able to take on the risk they ended up with. I'm a firm believer that you get the supply chain that you deserve… we've got to bring people up the value chain and deliver things differently."
WWT's Water Industry Asset Management conference was held in Birmingham on May 10th 2018 and was sponsored by MMI Engineering and Servelec Technologies.