Water companies to plant 11 million new trees
Water companies in England have announced plans to plant 11 million trees as part of a wider commitment to improve the natural environment and achieve their goal of a carbon-neutral water industry by 2030.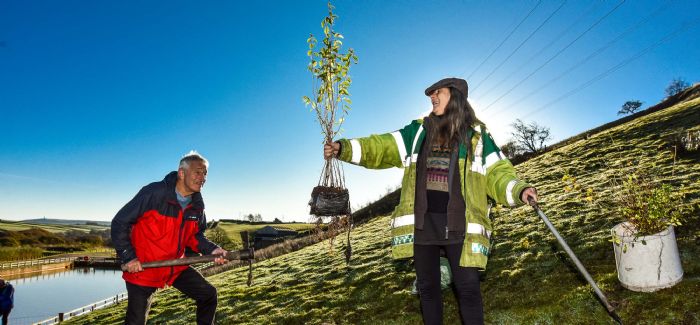 A Yorkshire Water tree planting programme near Gorpley reservoir in Calderdale
The joint proposals will see trees planted on around 6,000 hectares of land across England together with work to restore original woodland and improve natural habitats that themselves provide carbon capture.
While some of this land is owned by the water companies themselves, additional land will be provided by partners such as the National Trust, The Wildlife Trusts and the RSPB.
Local partnerships with councils and regional NGOs will ensure that projects include urban tree planting, to bring much needed health and wellbeing benefits to communities in towns and cities.
In addition, The Woodland Trust has agreed to work with all the water companies to help identify sites and manage the planting programme once it is developed.
Many water companies already work with charities on habitat improvement and regional planting programmes but this initiative will see those local partnerships taken to a national level to ensure that the industry achieves its aims. Water companies will also look to join forces with existing initiatives such as the National Forest and Northern Forest.
The plan builds on a strong track record in habitat conservation and tree planting by the water industry.
For example, United Utilities has already planted around 800,000 trees since 2005 and is committed to a further 440,000 in the next five years, primarily across urban environments. Severn Trent has planted over 500,000 trees since 2015 and plans are in place for 250,000 trees to be planted in the next five years.
In addition, Anglian Water has plans to plant a million trees, hedging plants and shrubs in urban areas, as part of a 25-year initiative.
The companies, including the nine major water and sewerage providers in England, have committed to fully deliver the habitat improvement programme, which will include hedgerows and grasslands as well as trees. The scheme will provide 'nature corridors' to offer significant biodiversity benefits as different habitats are connected.
Companies are also committed to ensuring their plans align with government tree planting and habitat improvement programmes and has already had discussions with the Department for Environment Food and Rural Affairs, including through the Government Tree Champion Sir William Worsley.
The industry already has plans in place to plant the first 2.5 million of the 11 million trees. The next priority will be to identify additional sites across England that are appropriate for tree planting or habitat restoration.
"I welcome this pledge from England's water companies, who have clearly seen the value in planting trees and acknowledged the vital role they will play in helping us to reach net zero emissions by 2050," Sir William Worsley said.
"Trees are carbon sinks, provide crucial habitats for precious wildlife, mitigate flood risk and provide a valuable renewable resource in timber – and I encourage other industries to follow Water UK's excellent example to ensure we boost planting rates across the country."
Richard Flint, chief executive of Yorkshire Water, which are helping to coordinate the project, said: "As an industry, the water sector is committed to fighting climate change through becoming carbon neutral by 2030.
"Our ambitious pledge announced today will go a long way to meeting that target, and will also deliver greater biodiversity, improved water quality and better flood protection. In recent years water companies in England have made significant contributions towards tackling some of the greatest environmental challenges that we face, and today's announcement is just the latest example of that commitment to the environment."
Michael Roberts, chief executive of Water UK, said: "Water companies play a unique role in running a vital public service and acting as long-term stewards of our natural environment.
"The trees they plant today will be a testament in years to come of the sector's ground-breaking Public Interest Commitment, which goes beyond regulatory compliance and which, with the support of our partners, will deliver real social and environmental progress."
John Tucker, director of woodland creation at The Woodland Trust, said: "The Woodland Trust is delighted to be working with water sector in this exciting initiative. Trees and woods in the right place can deliver a multitude of benefits and we urgently need a massive expansion in our tree cover if we are to adapt to future climate change."
Peter Simpson, chief executive for Anglian Water said: "Much of our proposed planting will be with the purpose of allowing nature to help us do our job. Whether that be by building more treatment wetlands, or by using green spaces to manage urban flood risk in partnership with customers, local authorities and local charities.
"We take our commitment to the environment and the local communities we serve very seriously, and we're proud to be at the forefront of the water industry's environmental efforts. Eleven million trees is a significant commitment, and one which will really help to combat the huge challenges of climate change and flooding, as well as adding to the natural beauty of our region.
"We've been pushing for the water sector to reduce its carbon footprint for a number of years. This initiative is a clear signal of the whole industry's intent to be running carbon neutral businesses by 2030."
Southern Water director Cory Reynolds said: "Southern Water is delighted to be supporting this important programme, which will help combat the challenges of climate change and is a clear indicator of the move towards the water sector becoming carbon neutral by 2030."
The plan also received support from Friends of the Earth campaigner Guy Shrubsole, who said: "Doubling the UK's tree cover is crucial in the fight against climate breakdown, so it's great to see this commitment coming from some of our biggest water companies.

"Large landholders, including water companies, have an opportunity and responsibility to use their land in the best way for the planet. We're therefore challenging landowners everywhere to reintroduce trees and offering to help them on that journey."
The Government's committee on climate change aims to increase UK woodland coverage from 13 per cent of land to 17 per cent to help meet the target for 'net zero' carbon emissions by 2050.