Water companies set out plans to maintain supplies over summer
Water companies have set out the action they are taking to maintain water supplies over the coming months following a dry winter and spring that has affected river flows and groundwater levels.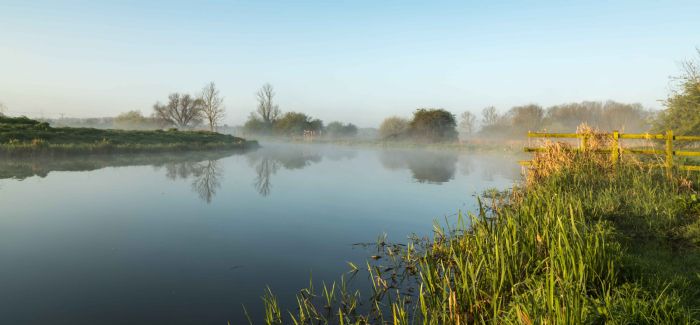 Anglian Water will reduce abstraction from the River Nene over the coming weeks
During last year's heatwave, the environment suffered the driest May to July across England since 1921 and it was the joint hottest summer on record.
Since then, lower than average rainfall, continuing through April and May – particularly in the east of England – has seen some river flows decline to lower than normal for the time of year.
In the south and east, rainfall has not replenished groundwater stores, with levels now declining. While there is no threat to public water supply, these conditions are putting particular pressure on the environment and agriculture.
At a National Drought Group (NDG) meeting this week, water companies said they were: taking action to find and reduce leaks; making water transfers around their networks and between companies to meet demand and rest some sources; ensuring that all potential sites are application-ready for drought permits; and working with farmers locally to identify ways to sustain and share water supplies.
Despite reservoir storage decreasing during May, public water supplies are looking more stable. Reservoir stocks for public water supply are just below average for the time of year.
However, farmers in East Anglia, Lincolnshire and Northamptonshire have reported they are facing significant pressures with irrigation, and Environment Agency monitoring has shown a decline in water available, so there were discussions about how the water companies and the Environment Agency can help farmers during the growing season, particularly in the east of England.
Anglian Water has announced that it will be sharing its allocated water resources from the River Nene with nearby farmers to enable them to take extra water for their crops.
In the coming weeks, the water company will reduce abstraction from the river to allow downstream irrigators to take more water. Anglian will then make that water up when there are additional flows in the river.
The water company is in the process of finalising an agreement with the Environment Agency and local drainage board meaning it will take less water from the river to use for drinking water, which in turn will allow local farmers to use more water to irrigate their crops. The exchange was first trialled after last year's summer heatwave.
Hannah Stanley-Jones, water resources manager for Anglian Water, said: "Despite the recent dry weather, we know our water resources are secure for this year – our reservoirs are 91 per cent full. However, groundwater and river levels are lower than we would expect at this time of year.
"Known as the 'bread basket of England', agriculture makes up a huge part of our local economy, and water is a vital part of supporting that. It's been drier than normal now for the last year, with only 76 per cent of the average rainfall expected.
"More recently in April, we only saw 30 per cent. We know local farmers need more water to irrigate their crops this year, which is why we're redirecting this precious resource to areas that need it most."
Following the NDG meeting, Environment Agency chief executive Sir James Bevan said: "We welcome action the water companies are taking to ensure maintenance of supply over the coming months."