Water companies plan £50BN on service improvements in AMP7
Water companies have pledged to spend more than £50 billion on improving services in their business plans to Ofwat for the years 2020-25.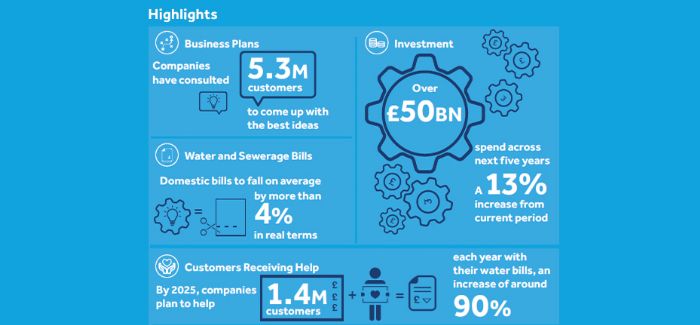 As part of Ofwat's 2019 price review, all water companies must set out a detailed business plan outlining how they will meet the needs of their customers in AMP7 and beyond by Monday 3 September.
Plans should cover a range of matters including: what companies propose to invest, what they propose to charge customers, how they will support vulnerable customers and how they will ensure the long-term resilience of their infrastructure and operations.
Water UK issued 'A Manifesto For Water' that summarised the collective plans of the companies, highlighting that the £50 billion intended to be spent on improving services represents a 13 per cent increase on AMP6.
Average domestic water bills, meanwhile, are planned to fall by more than 4 per cent in real terms across England as a whole, while the manifesto unveils proposals to cut leakage by more than 16 per cent over the five years, with some companies intending to go even further, in the biggest leakage programme for 20 years.
The new environmental proposals are designed to improve 8,000km of rivers and to reduce by nearly 90 per cent the number of serious pollution incidents, from 52 today to around a half-dozen by the end of 2025.
Water UK chief executive Michael Roberts said: "The water industry's record over the past 30 years – cutting leakage, keeping bills affordable, improving water quality, and cleaning up rivers – has been good, but the business plans offer to take it to another level.
"The ambition in this manifesto shows an industry that is dynamic and passionate about delivering real benefits for customers, the environment and the country as a whole. The industry has set out an ambitious vision for the future of water that puts customers right at the heart of everything that companies do."
Northumbrian Water, Severn Trent and United Utilities all said they plan to improve services while cutting bills.
Northumbrian aims to cut customers' bills by 10 per cent by 2020 and by up to 14 per cent by 2024/25, reiterating its intention to eradicate water poverty by making services more affordable than ever before. It will also look to invest £3 billion pounds on improving water and wastewater services across the region.
Severn Trent plans to cut bills by 5 per cent while spending £6.6 billion, saying it will use its "innovation and commercial pipelines to deliver a 13 per cent efficiency in spending".
UU announced a 10.5 per cent reduction in real terms in average bills, a reduction of over £1 billion in expenditure compared with AMP5 and "a major water resilience scheme with estimated construction costs of over £750 million in AMP7 and AMP8 to be directly procured for customers in Manchester and the Pennines".
Thames Water said bills would remain flat before inflation and that it will invest a record £11.3 billion over the course of AMP7, with plans to reduce pollution incidents by 18 per cent and leakage by 15 per cent.
Anglian Water proposed a £6.5 billion investment programme, including £240 million to reduce leakage by a further 22 per cent, a Water Resources Management Plan totalling £630 million, £783 million to support the environment through the Water Industry National Environment Programme (WINEP), and £650 million to enable sustainable growth and allow for more than 200,000 new homes to be built in the region by 2025, through improvements to water and water recycling networks.
South West Water, meanwhile, announced a radical 'New Deal', promising lower bills, improved service, better environmental protection and a stake and greater say in the company for customers.
In addition to keeping the average bill below inflation and £1 billion on improving services, operational resilience and environmental improvements, the company will offer customers a £20 million shareholding and a greater say in the business, building on its WaterShare scheme, first introduced in 2015, which rewards customers for the company's outperformance (and protects them from underperformance), with extra investment or even lower bills.
Southern Water, which proposed to increase investment from £3.2 billion in AMP6 to £4 billion in AMP7, said it aims to lead the industry in water efficiency, reducing usage to 120 litres per person per day and cut leakage by 15 per cent by 2025.
Dwr Cyrmu Welsh Water intends to invest £2.3 billion over the course of the five years and to reduce the average bill by £22 before inflation, while Yorkshire Water said its business plan involves reviewing all customer accounts to ensure they are on the cheapest tariff.
Ofwat will scrutinise all of the submissions before publishing an initial assessment of each company's plan on 31 January 2019, where it will categorise companies' plans according to the level of quality, ambition and innovation they have demonstrated. The best plans could benefit from incentives through the price review process, while those that fall short will face closer scrutiny and interventions and could receive lower returns.
Ofwat will make final decisions on the services water companies must deliver and limits on the prices they can charge customers in December 2019.

Ofwat's senior director for strategy & planning, John Russell, said: "We've reached a key milestone in our price review process. From now until January 2019, we'll pore over each and every business plan and we'll be looking for evidence that they are robust, ambitious and, crucially, that they have been shaped by customers.
"All companies have had an opportunity to develop high-quality plans, but where plans aren't sufficiently ambitious or stretching, we'll step in to protect customers and the environment."