Water companies make progress on risk-based drinking water approach
Water companies are making progress towards a risk-based approach for drinking water quality rather than merely focusing on compliance, but more work remains to be done, delegates heard at the WWT Drinking Water Quality conference yesterday (Nov 2).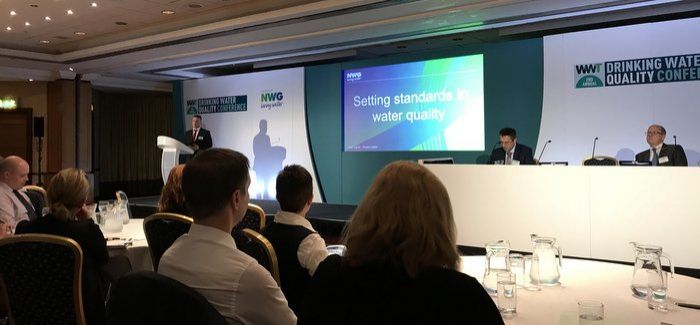 WWT's Drinking Water Quality conference in progress in Birmingham
Speakers at the Birmingham event, presented in association with Northumbrian Water, discussed how the Drinking Water Inspectorate is working with water companies to introduce the Compliance Risk Index (CRI) as a replacement to the commonly-used regulatory measure of mean zonal compliance (MZC). The new index measures not only the frequency and location of compliance failures, but the significance of these failures in terms of their effect on customers; it also takes into account the cause of failures, the water company's ability to control this cause and how effectively it manages an incident that occurs.
"The new compliance risk index is a positive development, which is helping us gain a greater understanding of the whole picture of what we are doing and the risks that are involved at every stage," Northumbrian Water chief executive Heidi Mottram said in her opening address to the conference. "As water companies, we will all be striving to be at the top of that index, but over time, the aim is that we will continue to raise the bar on water quality and risk reduction for the whole industry."
DWI Chief Inspector Marcus Rink said that while mean zonal compliance in England and Wales stood at 99.96% in 2016 and this was vastly better than 20 years ago, performance has reached a "plateau" over the last dozen years. He highlighted that there were 150 serious incidents last year which required in depth investigation, and that it was important to analyse what went wrong in each of these cases to minimise the risk of their reoccurrence. "It wasn't just chance that these incidents occurred," said Rink. "In each case something has gone wrong with either people, processes or technology."
Inadequate or incorrect risk assessments were often to blame, he added. Incidents which he cited as examples included the chlorine contamination at Severn Trent's Castle Donington Reservoir in March 2016, which followed a flow control failure; and an incident at SES Water's Elmer Works in February 2017 which saw sodium hypochlorite mistakenly put into a storage tank meant for ferric sulphate, resulting in the release of dangerous chlorine gas and the works being evacuated.
Later the conference heard from Clair Dunn, Water Quality Risk and Optimisation Manager at Anglian Water, about the operational risk assessment process Anglian carries out when it is looking to make changes in its processes. Anglian has carried out more than 100 such assessments so far in AMP6, ensuring that efficiency measures taken which save energy, chemicals and money do not add to operational risk. The company has also worked to develop 'process safety' procedures at some sites which are more commonly used in the oil and gas and nuclear sectors.
The conference also heard a case study from Yorkshire Water on its management of an E.coli contamination incident at Thorne and Moorends near Doncaster in July 2016. The contamination, which led to 3,600 household customers being told not to use their water, was traced to a chicken processing factory in the area which had a cross-connection in its plumbing; the factory was later fined £2700 for breaching water fitting regulations. The case highlighted how poor plumbing practices on customer-side pipes can impact the wider network, and showed the need for greater awareness and enforcement of water regulations, according to speakers Luke Montgomery and Marcus O'Ceafarcaigh of Yorkshire Water.