Water companies commit to Catchment Management Declaration
Water UK and water companies throughout England are among over 50 high-profile organisations to have signed up to the Catchment Management Declaration.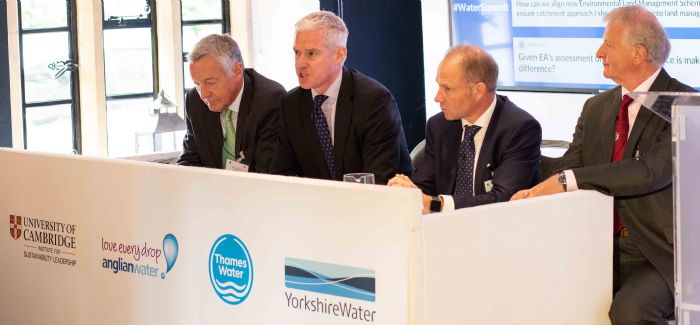 Photo credit: Clearwater Photography
The declaration, launched this week at an event attended by Prince Charles, is described as "a call from business, civil society organisations and the public sector to commit to the water catchment-related ambition of the UK Government's 25 Year Environment Plan and support collective activities that will deliver successful catchment management".
Coca-Cola, The National Trust, ASDA, Marks & Spencer, Waitrose, Sainsbury's The Wildlife Trusts and the National Farmers Union are among those to have signed up, along with Affinity Water, Anglian Water, Bournemouth Water, Essex & Suffolk Water, Northumbrian Water, Severn Trent, South East Water, South Staffs Water, South West Water, Southern Water, Thames Water, United Utilities, Wessex Water and Yorkshire Water.
By signing, organisations declared the following six principles:
We recognise that water is a valuable and shared resource on which we depend and impact both direct and indirectly; we will take responsibility to progress sustainable water management, from where we are at present, for all.
We will support action at both catchment and regional scale to deliver multiple benefits through cross-sector partnership and collaboration, recognising that the environment is a system upon which we all depend.
We will support the improvement of existing governance frameworks to facilitate delivery through mechanisms such as the Catchment Based Approach.
We will work together to increase the awareness of citizens on their role in delivering water stewardship and encourage positive action.
We will reconvene in 12 months, in the first instance, to share progress, best practice and to demonstrate positive action.
By signing, we commit to including delivery against this Declaration throughout our business operations so that the principles form part of how we will deliver our environmental intentions.
Anglian Water CEO Peter Simpson said: "We signed up to six principles, which given the nature of the challenge on our hands are mostly high level and strategic. So I was glad to see that one of them is a promise from everyone involved to go away, start working together on this issue and then reconvene in 12 months to share our progress and examples of positive action. And HRH the Prince of Wales made it very clear that he expects to be kept personally informed of that progress.
"We have a year to show this approach can work and I welcome everyone with an interest in water and our environment to scrutinise the results in 12 months' time. Only then can we be sure we are doing the right thing for our rivers, our wildlife and our communities."
In his speech at the Cambridge Institute for Sustainability Leadership's Water Summit, Prince Charles told attendees he had been trying to promote catchment management principles in the UK since he "discovered the Munich water company was encouraging farmers in its sensitive catchment area to convert to an organic system" around 25 years ago.
He added: "The publication of today's 'Catchment Management Declaration' is hugely encouraging, if more than a little overdue. It is particularly good, if I may say so, to see the recognition that resolving the issues is beyond the reach of any single sector or organisation and that the answer lies in a collaborative, multi-sector approach through which water is managed sensitively as a shared resource, recognising that every catchment is different.
"The list of signatories is already impressive, at more than 50, including some very big names, and I can only say I hope it will continue to grow.
"Having said that, I am under no illusions about the scale of the challenge. The declaration refers to a step change, and that is absolutely what is required because the situation is serious. 
"Our rivers and wetlands provide a wide range of ecosystem services; they are the pre-eminent wildlife corridors, places of great beauty, important for many varieties of recreation and tourism and the source of water for human consumption, agriculture and business. Yet, if we are honest, they are neither in good shape for most of these activities, nor are they resilient to the increasing demands of climate change and population growth."