Water Bill passes second reading
The Water Bill, which aims to boost competition for business and public sector customers in the English water industry and enhance resilience and infrastructure, has cleared its first parliamentary hurdle. The Bill was debated and approved by MPs from both sides of the House at its second reading on November 25, 2013.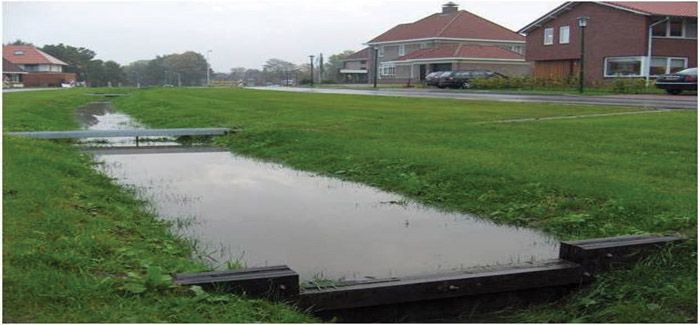 Action on sustainable drainage (SuDS) needs to be brought forward, Conservative MP Anne McIntosh told the House of Commons during the second reading of the Water Bill
The Secretary of State for Environment, Owen Paterson, said the Bill would "release a floodtide of new investment, potentially in new reservoirs, use of aquifers and transfer of water between water companies". He added: "The package of reforms is designed to exert a sustained downward pressure on water bills and ensure affordable flood insurance for household areas at high risk of flooding."
Anne McIntosh, Conservative MP and chair of the Environment, Food & Rural Affairs Committee, called on the government to include a statutory duty on highways authorities to prevent surface water on roads from going into combined drains and sewers in the Bill. She told MPs that when surface water runs off the road and mixes with sewerage, it can flood into homes and cause "health and significant anti-social problems".
She argued: "I don't care what the cost will be, but if we're going to have sustainable drainage systems then I think we have to look at creating a system that will retain the surface water off the road and stop it going in to the combined drains and sewers."
She said it was "regrettable that the sustainable drainage system SuDS that was envisaged in the Flood & Water Management Act 2010 has still not been implemented", and urged the minister to introduce overdue legislation on SuDS before April 2014.
McIntosh was also among members asking for sustainable development to be made a statutory duty of Ofwat in the Bill. However, Paterson said he believed that the focus on "long-term resilience" would deliver the same aims.
Shadow Secretary of State for Environment, Maria Eagle, said the Bill was "a wasted opportunity to tackle the impact that rising water bills are having on stretched household budgets". She called for "greater powers of intervention" to be given to Ofwat for instances when water companies' profits were far in excess of those anticipated.
She also called for a "legal requirement on water companies to sign up to a new national affordability scheme", revealing that only three water companies had actually introduced voluntary social tariffs, with just 25,000 customers benefiting.
Eagle said this was "a tiny fraction" of the 2.6 million households that "currently spend more than 5% of their income on water".
McIntosh urged the House to put pressure on the Department of Work & Pensions to share benefits data with the water companies to help them target customers on the lowest incomes. She also warned of the risk of the de-averaging of household bills as an unintended consequence of opening up the upstream market to competition.
Plaid Cymru MP Hywel Williams explained how the situation in Wales was markedly different to that in England, with third sector company Dwr Cymru Welsh Water the main player and the country not extending competition.
"Dwr Cymru has the lowest gearing in the industry," he said, adding, that customer satisfaction levels were "well over 90%". 
Click here to watch the debate.