Warden Biomedia and Cranfield join forces on treatment research
Filter media manufacturer Warden Biomedia and Cranfield University have teamed up to find more effective wastewater treatment methods. The industry / academia link will focus research and development expertise on biofilm processes with the aim of improving the efficiency, cost- effectiveness and sustainability of process units such as SAF, MBBR and trickling filters.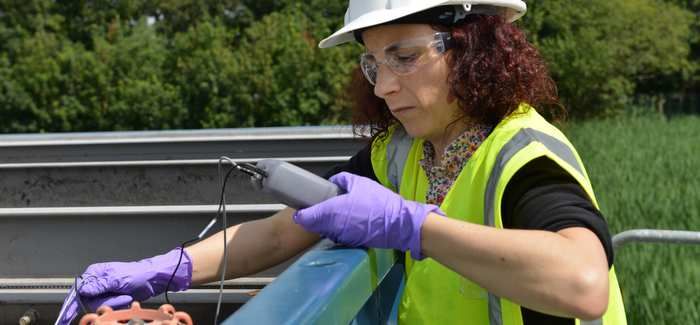 Postgraduate student Joana Manuel Silva Dias carries out testing at a wastewater treatment plant
Commenting on the partnership, Warden Plastics managing director Mark Barrett said:  "We believe that this approach to wastewater treatment holds much greater potential than is currently being harnessed. Our objective in sponsoring this postgraduate research project is to provide a foundation for the next generation of biofilm processes, which will enable our customers to tap into even greater opportunities."
The research will be carried out under the supervision of the Cranfield University Water Science Institute. The project will begin with an MSc thesis due to be completed by postgraduate student Joana Manuel Silva Dias. This will be followed by a PhD project, structured across six research phases, culminating in a final thesis towards the end of 2017. The project will be supervised by Dr Ana Soares, lecturer in biological engineering and water programme director.
The main objective of the PhD project is to gain detailed knowledge on the design, operation and efficiency of biofilm processes. This will encompass analysis of existing full-scale process units that use Warden's Biomedia, and will also involve laboratory, and pilot and active, scale investigations of alternative design approaches.
Soares said: "Collaboration between industry and academia is crucial for a project such as this. We are able to address fundamental questions and universal laws of water science, but we are also able to study how these apply and their implications across wastewater treatment applications.
"There are important pressures and drivers within the wastewater treatment industry, such as the need to reduce energy consumption, and the requirements of various regulatory frameworks. A partnership of this type enables us to consider all aspects of the process to develop more effective solutions."