Wales-Ireland joint project explores energy efficient water solutions
Flood and pollution prevention specialists, Detectronic, are supporting a collaborative project - Dŵr Uisce - between Bangor University in Wales and Trinity College Dublin in Ireland that aims to improve the energy efficiency of the distribution of water resources in both countries.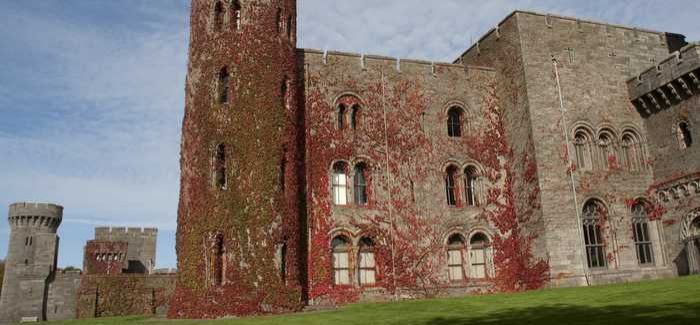 Penrhyn Castle will be part of the project to explore drain water heat recovery
Dŵr Uisce is a €3.4 million collaborative project which is focused on developing and demonstrating integrated, smart and low carbon technology and includes hydropower, energy recovery, drain water heat recovery and smart network control systems.
Phill Tuxford, technical support manager for Detectronic, explains: "The part of the project we're involved with is drain water heat recovery at Penrhyn Castle. 
"In order to determine the actual potential for heat recovery in this particular area of the network, we need to gather flow and temperature profiles at various locations in and around the site."
John Gallagher, lecturer at Trinity College Dublin and researcher on Dŵr Uisce project, says: "We don't realise the energy that simply goes down the drain through hot water and waste.
"Our project goes beyond most goals of improving efficiency in the water system itself and, thanks to the National Trust, we are working closely together at Penrhyn Castle to determine how much additional potential there is from drain water heat recovery."
To capture the specific data required by Gallagher and his team, Detectronic has installed one of its MSFM S2U unit monitors, which will provide both depth and velocity information from its initial location within the sewer network.
The project will run until September 2021, and work is expected to run for the next 12 months. During that time, Detectronic's data analysts will review and process the data received and deliver a comprehensive report for the researchers to work with.
"We hope that this is the first of many sites that can deliver drain water heat recovery in Wales, and indeed further afield, and as we move forward the success of this project will be a good template for others wishing to do the same,"adds Tuxford. "It's a real privilege for Detectronic to be involved with such an informative and potentially influential project for water companies everywhere - we look forward to seeing the results over the coming months."
Dŵr Uisce is supported by the European Regional Development Fund through the Ireland Wales Cooperation Programme 2014-2020. It follows the successful HydroBPT project funded by the previous Ireland Wales Programme (2007-2013) which focused on examining the potential for hydropower energy recovery in water services.