Venning sounds warning over NI Water funding gap
Northern Ireland Water chief executive Sara Venning has told WWT that the funding shortfall over the current Price Control period means the utility can see 'the problem that is in store' despite an encouraging mid-term review this month.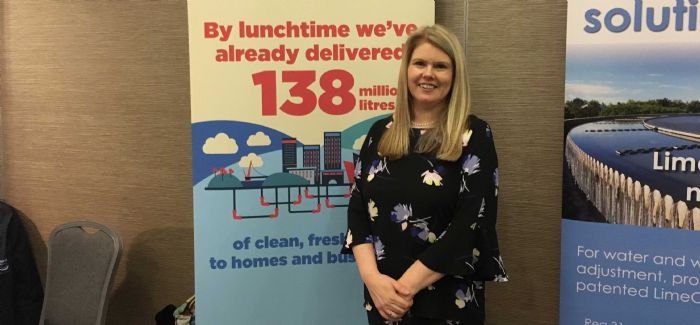 Venning said the largely positive feedback in the regulator's review three years into PC15 did not mean the company could successfully operate below budget long term.
Her appearance at the WWT Water Northern Ireland Conference on 22 February took place during water month in the Institution of Civil Engineers' Year of Infrastructure, and she indicated that infrastructure is threatening to become an area of neglect.
"I suppose the conundrum we find ourselves in is - we're good at what we do," she said in an interview at the conference in Belfast. "Because we do take a challenge on board, having been underfunded for the first three years, we have made it a priority to deliver the majority of nominated outputs.
"Serviceability hasn't been proven to be impacted at this stage so we've continued to meet our objectives, but we can see that problem that is in store."
John Mills, the Finance and Network Assets Director at the Utility Regulator, had earlier told the conference that Northern Ireland Water is "broadly delivering against performance objectives with a couple of exceptions".
He explained: "One is that because of the shortfall in funding in the early years, some of the capital outputs weren't delivered. The second is that the expectation of what will be delivered and available for capital budgets in the future means what we've identified as £55M of efficiency savings from the capital programme for PC15 has effectively been taken away from us. We describe those as additional outputs but they're essential things that need to be done that will now be deferred."
Venning said that number had actually been as high as £90M at one stage, adding: "The first part of the mid-term review is absolutely that a good job has been done, but it is really important to pick up on that message from the regulators: the £90M of outputs that will not be delivered now in this six-year window because the funding hasn't been sorted out. That's huge.
"That's £90M of efficiencies that we would have driven. That's extras for the people of Northern Ireland, and that's tangible – that's wastewater treatment works that haven't been built or haven't been upgraded, or pipes that haven't been laid in the ground. That's a lot of money."
She added: "A Price Control is always challenging but if you've got certainty of funding, you've got the time and space to get on with it and, through the efficiencies that you will deliver and that you will have planned to deliver, you can deliver additional outputs. When that certainty is taken away and your planning window is so much shortened, that in itself leads to inherent inefficiencies, so therefore less gets delivered for customers. Resource gets diverted from the good work of running a water and sewage utility to prioritising, and reprioritising, investment plans."
Northern Ireland Water faces a unique funding challenge compared to the other British water utilities. It is a regulated utility but also a non-departmental public body (NDPB) and, because domestic customers do not pay directly for their water, more than 50% of the company's income comes from central government. As an NDPB, there is oversight from the Department for Infrastructure going up to the Northern Ireland Assembly.
While the Utility Regulator makes a determination on budget over Price Control periods, that is subject to amendment in relation to the funding that the government can make available.
Linda MacHugh, Director of Water Policy and Shareholder Division at the Department for Infrastructure, said during her conference speech that funding uncertainty was a huge issue.
MacHugh told delegates: "Every time we talk about our aspirations and what we can do, the elephant in the room is always funding. Since 2007, when Northern Ireland Water was set up, there's been about £2BN of capital investment. There's a lot of money being spent, but the money that's available isn't as much as the regulator deems necessary. That is a concern for everybody.
"The simple issue is that there isn't enough money around. Every department is facing significant budget cuts and we're waiting with bated breath as to when sectors will make an announcement about our budgets for next year and what those announcements will be. We are expecting pain and there's no getting around that."
Venning expressed concern that not enough was being done to challenge the budgetary issues.  
"I just wonder if we are too accepting as a company, as stakeholders, as a small nation, that the people of Northern Ireland are not being served and not enough noise – if any – is being made about that," she said during her appearance at the conference. "Customers of tomorrow are being disadvantaged by the actions that are being taken."
Several speakers at the conference touched on a lack of customer awareness about the water sector in Northern Ireland, which is exacerbated by the fact there is no direct billing for the service. As MacHugh put it: "I think an awful lot of people in Northern Ireland don't think about water unless it's raining too much or the water stops coming out of taps."
With infrastructure, the issue is compounded by a lack of visibility.
Venning said: "People genuinely do not appreciate or realise the significant amount of work that has to go in to taking rainwater and treating it to make drinking water, and to take waste and treat it and safely return it to the environment. It's huge. And our facilities are so well hidden, often very remote, so it's not naturally something that they'll look for. It is a difficult conundrum – how do you get people to value something that they can't see?
"We spend at least £150M a year on our capital works programme and we have an asset base that's valued at £3BN. People wouldn't necessarily realise the amount of infrastructure that we have but from our wastewater treatment works through to our water treatment assets, it's significant, with 42,000 kilometres of pipes – that's one-and-a-half times the length of the road network here. Infrastructure is something that very much contributes to the economy, to health and to the environment and we're a key player within that."
The Year of Infrastructure, then, represents an opportunity to try to raise awareness, and efforts have already been made in recent times to promote NI Water's work, including the decision to open up 20 sites last year to show members of the public around and a schools programme involving a double-decker bus that has reached over 100,000 children.
Public awareness of the company's work is beneficial in the fight for funding, and Venning is determined to get the message out that water requires greater financial support.
"Certainly even as we had gone into PC15, there was a clear recognition that the level of capital investment that was available was constrained," she said. "Across the three areas of health, the environment and the economy, we think it's vitally important that we get the funding we need.
"We know we're keeping people healthy but economic growth here in Northern Ireland is a very important area and we are a key enabler for economic growth. If somebody is in manufacturing or in agri-food business, our product and our service is a key enabler for them. If we're underfunded then potentially their growth plans can be impacted, so for that reason I think it's very important, and for customers too. We're driving down supply interruptions, and you can see the drive across the industry for driving down leakage, all the things people see in their day-to-day life."