Vast water reserve found in Kenya
Large underground water reserves have been found in Turkana, one of Kenya's driest and poorest regions. The discoveries were made by US-French natural resources exploration firm Radar Technologies International (RTI) during the course of a survey of groundwater conducted for the Kenyan Government on behalf of the United Nations.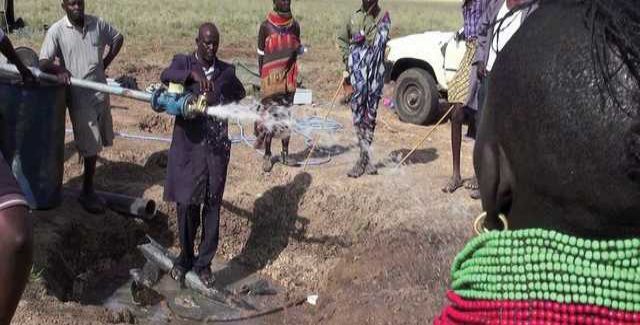 Groundwater surfaces in Kenya's Turkana region
The aquifers were detected with the WATEX System, RTI's space-based exploration technology. Both shallow and deep aquifers were surveyed across northern and central Turkana County in an effort to identify supplies to combat drought and water scarcity for the 2M people living in the region.
Overall, the RTI study found that Turkana hosts a minimum reserve of 250Bn m3 of water, which is recharged mainly by the rainfalls of the Kenyan and Ugandan highlands at a rate of 3.4Bn m3per year. This new wealth of water could boost Kenya's share of available water by 17% and alone represents nearly double the amount of water that Kenyans consume today.
This groundwater raises the prospect for improving the livelihoods of the Turkana people, most of whom live in poverty and have limited access to basic services and clean water.
Two major aquifers have been recorded and proven by drilling. The large Lotikipi Basin Aquifer is estimated to store 207Bn m3 of water, the same volume of the nearby Lake Turkana.
The Lodwar Basin Aquifer, is situated within a short distance of Lodwar town and Turkana's oil reserves. It is fed by the perennial Turkwel River and has an estimated reserve of 10B m3. RTI recorded three other large structures – Gatome, Kachoda and Nakalale – which could prove to store a combined 30Bn m3 once confirmed by drilling.
In addition to deep reserves, RTI also mapped 2Bn m3 of water passing only a few meters under the ground and easy to reach, significantly raising the prospect for local agriculture activities.Looking ahead, RTI has recommended that all measures be taken to ensure the sustainability and viability of these newly discovered resources.
RTI's work also establishes a new basis upon which future investigations and mapping in Kenya can be based.The WATEX System detects water with its unique method of processing and interpreting remote sensing, oil industry and conventional data.
The WATEX maps have a 6.25m surface accuracy and have been proven to locate underground water with more than 94% certainty in many areas.
Known for its rapid and large-scale mapping capabilities, WATEX has been used in a number of countries to find water for international aid agencies and foreign governments, most recently in Ethiopia, Angola, Chad, Darfur and Afghanistan. During the Darfur Crisis, RTI used the WATEX to find water for thousands of Sudanese refugees.
Its partners have used WATEX groundwater maps to drill more than 1,500 wells to help alleviate the crisis in Darfur. Today in Turkana, the maps are already being used to supply water to refugees in Kakuma.