Valves dating to 1870s remanufactured for Yorkshire reservoir
Blackhall Engineering has successfully refurbished and remanufactured 140-year-old valves at Yorkshire Water's Fewston Reservoir.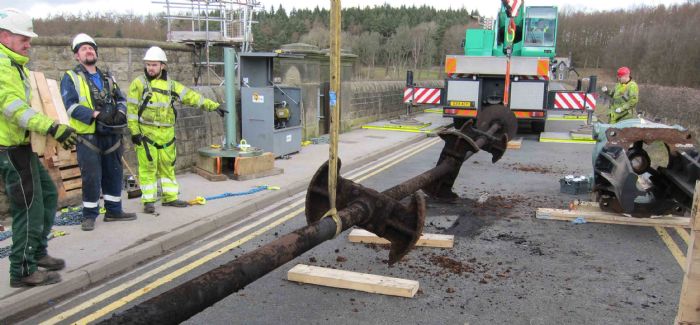 The 3.5 million cubic metre-capacity reservoir, built in the 1870s in Washburn valley near Harrogate, adjoins the 3.9 million cubic metre-capacity Swinsty reservoir, but in 2011 an inspection revealed that the valves that controlled the outflow from Fewston had begun to leak.
Yorkshire Water called in the Blackhall valvologists to inspect and diagnose the problem and conduct feasibility studies, and they concluded that critical failure of the valves was imminent should they be left unrepaired.
The original valves had 9" square teak shafts, were over 54ft long and sandwiched between two 1.5" thick wrought iron plates, and a major challenge was crafting lifting equipment capable of accessing the narrow space to remove the nine-tonne valves from the 59ft deep enclosure at the base of the valve tower.
After the valves had been delivered to Blackhall's Brighouse facility, they were stripped and inspected and, although the overall condition was found to be reasonably sound, the company set out to enhance overall robustness and longevity.
Design modifications included changing the valve stem material to stainless steel and increasing the diameter of the shaft to improve strength, while stress calculations indicated how the valves would work under pressure.
Patterns were developed using 3D Solidworks to remanufacture castings. The seat door was also refurbished and re-lapped, while the door frame seat ring was remanufactured and re-lapped to match the existing door.
A laser alignment test was performed to check the straightness of the shaft, and the valves were shot-blasted and finished with a WRAS-approved paint prior to final assembly.
They have since been returned to the reservoir and the company said: "Today, both valves are running soundly with no leakage detected, and should be fit for another 150 years."