Valve replacement boosts Littlehampton pumping station
Southern Water is investing £85,000 at its Sea Road pumping station in Littlehampton, improving the resilience of the site following problems last year.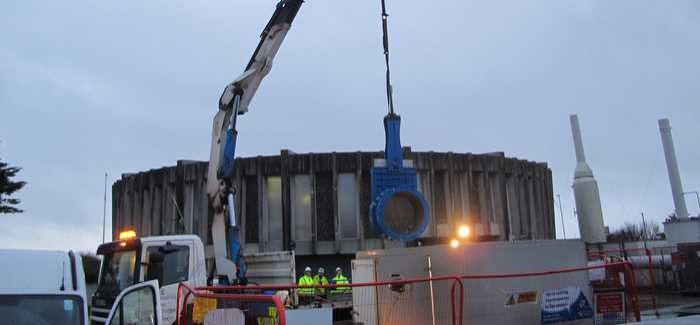 One of the new valves is lifted into place on site in Littlehampton
The company has replaced two large valves – each of which weighs a ton and is housed four metres underground.
The pumping station, next to the Inspire Leisure Centre on the seafront, receives flows from 60,000 homes across the area including in Littlehampton, Rustington, East Preston and Ferring.
It pumps these flows to Ford Wastewater Treatment Works to be cleaned. While the work was under way, temporary pumps diverted the wastewater around the valves.
The new valves, which control the flow of wastewater into the station, will be more reliable than those they have replaced – one of which caused problems last year.
Last August, a nut broke on one of the valves – preventing wastewater from passing through the station and putting the system at risk of backing up and causing flooding.
To prevent this happening, and to ensure customers could continue to use their toilets, washing machines and showers, wastewater was released to sea via an outfall.
At the time, temporary pumps were set up the same day to stop the release and the valve was repaired while a more permanent solution was sought.
Southern Water Field Performance Manager Neil Hawkes said: "These new valves are more reliable than the ones they have replaced and will help reduce the risk of further problems at the site. It has been a tricky job, replacing such large pieces of kit in a confined space and the rain that arrived just as we started certainly didn't help."
The valves were installed on Monday and will be brought on-line later this week.
The work was carried out by Mid-Kent Electrical and Invicta Valves.