Vacuum sewer collection to serve rural community
Engineers from NMCNomenca and Severn Trent have held a public exhibition in Salford Priors, on the border between Warwickshire and Worcestershire, to inform customers about their plans to provide a first-time sewerage system in their area.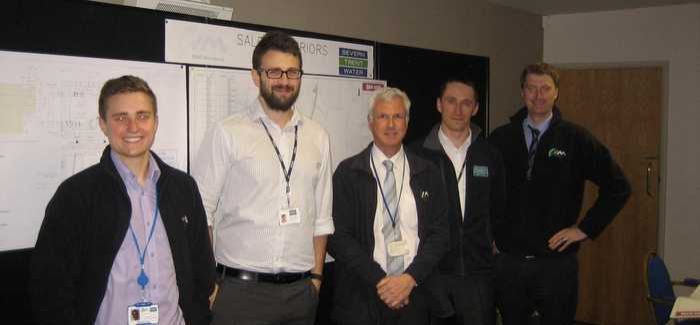 NMCNomenca and Severn Trent representatives at the exhibition
When the £2.5M project is completed, customers in the rural community will be able to connect to the new system and abandon their existing cesspits and septic tanks.
The project follows an application sponsored by the local Parish Council on behalf of 28 local residents who want to benefit from a mains sewerage system to prevent pollution and odour nuisance from their current arrangements. When completed, the new sewers will enable a total of 54 properties to transfer their drainage to the main sewer.
Because of the spread of the scheme, the terrain and topography along the route of the new sewer, the design has been developed on a vacuum collection system. This involves a main collection sewer operating at negative pressure, which draws sewage from individual properties via an interface chamber at each property boundary. New drains are laid in each property to divert their flows away from their septic tanks and into the interface chamber.
NMCNomenca and Severn Trent are working with CG Godfrey to design and install the vacuum system, taking advantage of Godfrey's considerable experience in this field.
The public exhibition took place over 2 consecutive days last week, lasting into the evening to enable customers to attend after finishing work.
The project team from both NMCNomenca explained the benefits of the new system, how it will operate, and how customers can sign up for a connection to their property. Those customers registering their interest will benefit from having the normal administration and connection charges waived, and will not incur annual sewerage charges for the first 6 months after changing to the new system.
Most of the visitors expressed a keen interest in connecting to the new system when it is commissioned. Work is due to start on site in August 2016, with completion anticipated in May 2017.