UU to start detailed structural analysis on 'mega-pipe'
United Utilities (UU) is spending £22M to conduct a detailed structural analysis of the Haweswater aqueduct, one of the largest water pipes in the UK. It is the first time that the pipe, which is 90km long, 2.6m in diameter and hundreds of feet deep in places, has undergone such analysis since it was commissioned in 1955.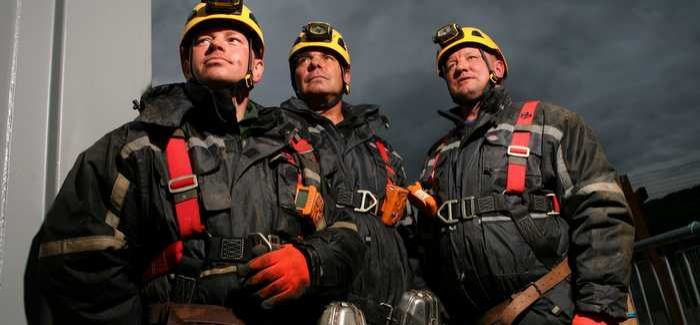 L-R: UU 'aquanauts' Dave Taylor, Philip Lear and Andrew Locker
A 280-strong team of specialist contractors, dubbed "aquanauts", will carry out the project during October having undergone rigorous training at a purpose-built simulation facility in Kendal, Cumbria.
Eighty crew members were chosen to go into the aqueduct after training. Each had to pass strict health and fitness tests, psychological tests to show they can cope with long periods in small spaces, and underwent specialist training on how to move safely in difficult surroundings. 
The gravity-driven pipe allows 570Ml of water to flow from Cumbria to Manchester daily. It supplies water to around two million people.
The project has taken ten years to plan. Carl Sanders, UU senior project manager, explained: "It's not like turning off a tap. Draining and shutting down the system to allow maintenance crews in to conduct a thorough analysis, involves over 400 workers in total operating on 45 separate projects to ensure the network of supporting treatment works can take the strain while Haweswater is offline.
"Also, with some sections of pipe 19km long and hundreds below ground level, ensuring the safety and wellbeing − both mental and physical − of our crews that enter the aqueduct is vital. The depths, confined spaces and pipe deposits will make it like another planet down there which is why we need to be confident they are up to the task." 
Sarah Togher, a lead engineering technician with UU, is part of the aquanaut team. She said: "It's a once in a career lifetime opportunity to be involved in a structural analysis of this scale and on a piece of engineering legacy. It's challenging but exciting to be involved in a project that will be a part of history in itself. When I qualified in civil engineering, I didn't imagine that the theory I studied would be put to use on such a stand-out mission." 
As the aqueduct carries drinking water, hygiene is paramount. In addition to all individuals entering the pipes undergoing health screenings and de-contamination procedures, specially designed cleaning equipment will be used throughout the project to protect the pipe. 
Once work has been completed on the main aqueduct, water will be flushed through to Heaton Park reservoir in Manchester – which will take a break from its day-to-day functions specifically for this project – and tested at UU's in-house laboratories to confirm quality before the aqueduct is given the operational go-ahead. 
The teams will be helped by 16 specialist Vehicle Access Systems or "pipe-mobiles", designed and built in Canada, that have been flown over to help transport equipment and supplies in the aqueduct.