UU starts £80M Oldham WWTW upgrade
United Utilities has started work on a multi-million pound project at Oldham Wastewater Treatment Works which aims to improve environmental water quality in the River Irk.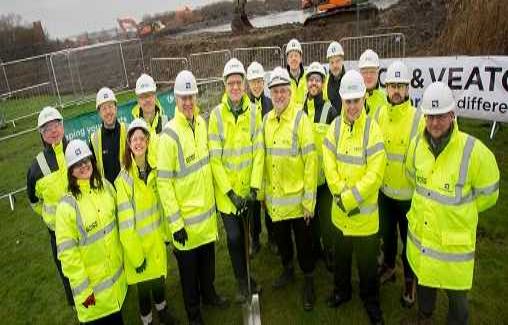 The project team mark the start of the Oldham works
The project, the biggest overhaul to Oldham's sewerage infrastructure since the industrial revolution, involves decommissioning part of the sewage works at Royton and upgrading the Oldham treatment works at Chadderton. A new sewer pipeline is also proposed between the two treatment works.
Earth-moving work has just begun at Oldham wastewater treatment works for the £80M environmental improvement project, which will help the watercourse meet the standards of the Water Framework Directive, gets off the ground.
Chris Tighe, the United Utilities project coordinator responsible for the scheme, explained why the work is needed: "New European rules will mean we have to treat the wastewater to a much higher standard, which both existing plants are too old and too small to meet at present.
"The plan is to transfer most of the sewer flows from Royton to Chadderton and upgrade the treatment processes so that the water we discharge into the River Irk is even cleaner."
A number of exhibitions have already taken place to inform residents about the plans and more will be held later this year when the final plans for the pipeline route have been confirmed.
Tighe added: "We're planning to use tunnelling techniques for parts of the pipeline to minimise disruption.  When we have more detail about the route we'll arrange to meet with local people and explain about the work.  
"It's a major investment for Oldham and it's one of the many projects our customers' water bills are helping to fund."
The project will take until the end of 2017 to complete.