UU sees Nereda as the future with wastewater sector 'ripe for disruption'
United Utilities sees Nereda as an important part of its future after having "great success" in its first three years with the technology, according to the company's innovation chief.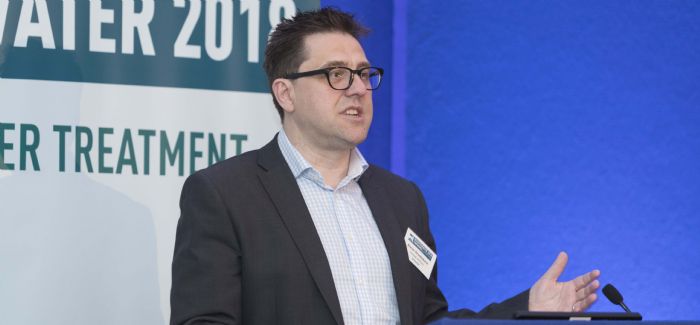 Kieran Brocklebank speaks at the WWT Wastewater 2018 conference in Birmingham.
UU's Head of Innovation, Kieran Brocklebank, told the WWT Wastewater 2018 conference in Birmingham about how the technology is changing the nature of its wastewater treatment, adding: "The wastewater sector is really ripe for disruption."
This week, United Utilities announced that it had awarded a contract that is set to see Europe's largest purpose-built Nereda process plant constructed at its Blackburn wastewater treatment works – the fourth such contract the company has awarded since completing its first trial of the technology in 2015.
Nereda is a biological wastewater treatment process, allowing for the use of fewer chemicals and less energy as well as greater resource recovery.
Brocklebank, who heads up United Utilities' dedicated innovation centre, told the conference: "We've had some great success. In a matter of only three years, we've managed to get four very large contract awards for Nereda. We've proven this technology, we've trialled it, we've shared it and we've got it hardwired into our capital programme."
He said United Utilities had been motivated to seek better solutions due to a changing environment involving "growing pressure with costs, increasing compliance, rising populations and a desire from water companies and our stakeholders to use fewer chemicals, consume less energy and create a smaller footprint".
He said the trial period, which involved the development a pilot plant with assistance from co-inventers Royal HaskoningDHV, had successfully established that Nereda could deliver on its stated benefits: effluent quality, lower Totex (total expenditure), smaller footprint, automated control, remote monitoring and control and resource recovery.
On the final point, he hopes Nereda will be able to assist not just in phosphorus recovery and reuse but potentially in the recovery of alginate, which is used in industries including pharmaceuticals. "This type of nutrient recovery is something that was just not possible in the activated sludge world," he said. "It's just too expensive to extract."
However, Brocklebank admitted that leading the way in bringing the technology from the Netherlands into the UK had been hard work.
He spoke at length about the challenges of persuading sceptics both at United Utilities and in the company's supply chain that Nereda was the way forward, with the UK wastewater industry having "used the same activated sludge process, with some tweaks here and there, for over 100 years".
"Having a good idea does not mean that idea will land in a large organisation," he said. "We spent ages and a huge amount of effort – more than the trial period itself – in sharing this knowledge internally and persuading the sceptical people who've known the tried-and-tested methods of the last 100 years. All our asset standards were built around that process, all our engineering processes were built around that process.
"We had lots of people to try to prove this to as we tried to satisfy ourselves. We had a huge number of trial criteria. We really put this technology through its paces."
Persuading the supply chain presented a further challenge.
"United Utilities has a design-and-build style of contract, so we work with four construction partners and it's their job to come up with the best solutions in our capital programme," he said.
"Having done United Utilities trials and proved it to ourselves, now we have to rely on the supply chain to actually volunteer that solution as the best one. We then spent a long time persuading our supply chain about this technology and what it can do. That was quite interesting because it was their job to then offer it to us in capital projects."
Brocklebank expressed confidence that Nereda will be able to "deliver those Totex efficiencies that we've proved through trialling" as United Utilities prepares to bring into operation the largest current Nereda plant in the UK, at its Kendal site, in October.
"We think Nereda is not just part of our past but part of our future," he said. "Our journey doesn't end with those four contract awards. We believe it's not just a promising technology but a proven technology, and we intend to keep pushing the boundaries on it."
The WWT Wastewater 2018 conference was held on 30 January in Birmingham and sponsored by BASF, RPS and EnertecGreen.