UU recruits UK's first sniffer dog to find leaks
United Utilities has recruited a sniffer dog to find leaking water mains.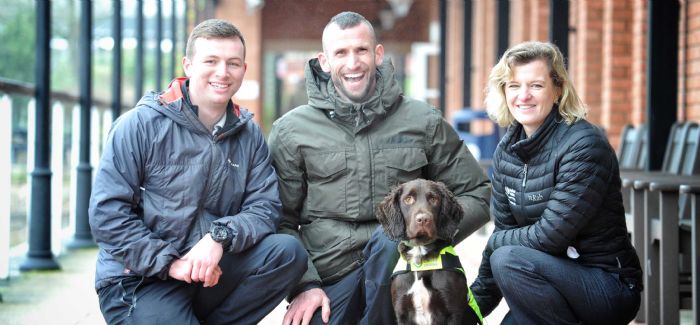 Snipe with trainers Luke Jones and Ross Stephenson and UU Leakage Manager Hannah Wardle.
The dog, named Snipe, has been trained to help pinpoint problem pipes in rural areas where the water does not always show on the surface.
The 16-month old cocker spaniel was a stray rescued in Ireland before he was headhunted to begin his training for the North West water company.
He has been going through a rigorous training programme to help him become the first dog in the UK to assist in finding leaks, learning how to recognise the tiniest traces of chlorine used to disinfect water supplies. Next he will learn how to put this into practice in a live environment, working with the leakage detection teams at the water company.

Tap water contains one part chlorine per million parts water, with the dog's nose capable of detecting scents at one part per billion.

Hannah Wardle, Leakage Manager at United Utilities, said: "Tackling leakage is a real priority for us and we're always looking for new and innovative ways to do the job more effectively.

"The North West of England is a notoriously wet region, and sorting the leaks from the puddles especially out in the fields can be real challenge. This is where we hope Snipe will really come into his own, as his sensitive nose can detect mains water at incredibly low concentrations.

"With leakage detection it's all about building up the evidence using a range of different technologies. We're trialling the use of satellites and drones to get a bird's eye view of a particular area, but the devil is in the detail, and pinpointing the exact place to start digging is more difficult than you might think.

"Snipe is going to be an invaluable asset to the team."

Snipe is being trained by North West-based Ross Stephenson and Luke Jones, both ex-military dog trainers.

"Using dogs to search for drugs and explosives is well known, but there are a host of other applications that we are only just starting to explore," Stephenson said. "We're really excited by the progress Snipe is making and we hope that soon water leak sniffer dogs will be a common sight."