UU puts stormwater bacteria in the spotlight
United Utilities (UU) has installed banks of high intensity ultraviolet (UV) lamps in water channels at its Millom sewage works to stop bacteria reproducing in stormwater. Installation of the 126 bulbs forms part of an £18M refurbishment scheme at the treatment works, and as engineers clean-up the Duddon Estuary.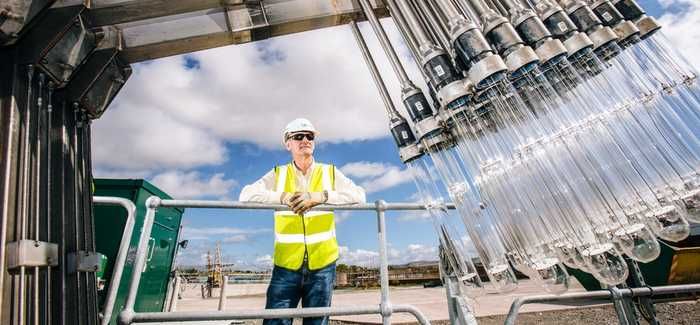 Roger Woodcock with the UV lamps, which mimic the effects of bright sunlight to stop bacteria from reproducing
Project manager Roger Woodcock said the plant was the first of its type in the North-west and one of only a handful in the UK. "The lamps work on the bacteria that's present in stormwater, which can overflow from the sewer system during extremely heavy rains.
"They mimic the effect of bright sunlight, which sadly we can't rely on in the north-west of England. It doesn't kill them, but it stops them re-producing and without that they quickly die off."
Pumping capacity at the nearby King Street Pumping Station has also been more than doubled to cut the chances of stormwater spilling into the estuary. Any water that does overflow is zapped by the lamps at the sewage works.
UU bathing water manager Sarah Jenner said: "This is just the latest of a package of improvements to Barrow's sewer systems totalling more than £60M since 2007. But sewers are only a fraction of the problem. Duddon Estuary is surrounded by land which animals graze on. During and after storms, rainfall washes pollutants off."
In 2009, the company finished a huge tank under Ramsden Square to stop sewer flooding. In 2011, work at Rampside reduced sewer overflows near Roa Island. Work is now underway to improve storm overflows at Ulverston, and a pipe in the Walney Channel to protect rare marine habitats there.