UU building floating solar farm on Langthwaite Reservoir
United Utilities is building a floating solar farm on the surface of Langthwaite Reservoir.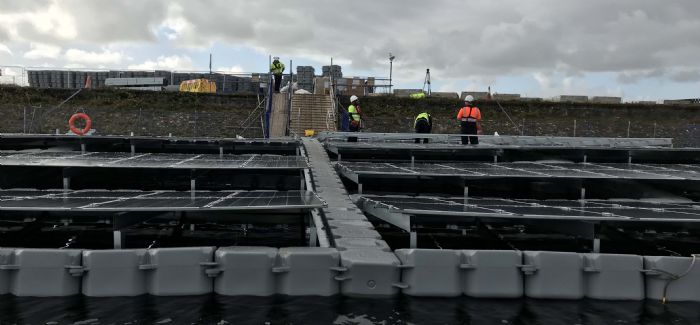 The power generated will be used to run the neighbouring Lancaster water treatment works, which supplies water to 152,000 people across Lancaster, Morecambe and Heysham.
Richard Waggitt, head of renewable energy at United Utilities, said: "Solar panels are more efficient than they used to be. There is a misconception that you need high levels of sunlight, when in fact daylight is sufficient.
"What you do need is unshaded space for the arrays, and that's where the surface area of our reservoirs is a real advantage."
The new floating array at Lancaster will be around 7,200 square metres in size with some 3,520 solar panels. The installation will cover an area the size of a football pitch and will provide 1MW of power – the equivalent of the needs of 200 homes.
United Utilities started the eight-week installation process at the beginning of October. The project is being delivered for United Utilities by Forrest and local suppliers will play a key role in the construction, including Carnforth firm Northern Pontoons.
Barry Tayburn, head of energy at Forrest, said: "Installing this floating PV scheme for our long-term partner United Utilities is a great showcase of innovation. We have commissioned a brand new float system for Lancaster, working with local businesses Northern Pontoons and Aqua-Dock, producing the floats off-site.
"Once transported to the reservoir, tables of 20 panels are floated out via a launch platform and then connected to anchors in-situ. This system really is a viable option for producers of large amounts of energy as a serious alternative to ground-mounted arrays."
This will be United Utilities' second floating solar installation. The company installed Europe's first commercial floating solar array at its Godley reservoir near Manchester in February 2016. That array is three times the size of the one proposed at Lancaster and can generate 3GWh of electricity per year.
A floating solar installation consists of 'rafts' of floats with the solar panels mounted on top. The rafts are bolted together and anchored, to allow for fluctuations in water level, using specially designed mooring and anchoring systems.
Waggitt said the company had learnt a lot from the installation at Godley.
"The solar panels are less visually intrusive than people expect," he said. "They don't reflect dazzling sunlight because they absorb light as part of the conversion to electricity. We do our best to ensure that, within reason, they blend in with the environment."
It is also thought that floating solar panels can help reduce the growth of algae in the water by blocking out the light, which means the treatment process can run with fewer chemicals and less energy.
The new floating array at Lancaster provides an opportunity for scientists to study the effect of this kind of installation can have on water quality, and a research team from the University of Lancaster will be doing that.
United Utilities aims to use all the solar power it generates in-house rather than export it to the National Grid.
Waggitt added: "Increasing our generation of renewable energy is not only good for the environment, it's good for our business too. Energy is one of a water company's largest controllable operational costs. By generating our own power, we can protect United Utilities from a volatile energy market, which will allow us predict our cost of treatment and stabilise bills for our customers."
Floating solar is one part of United Utilities' strategy to embrace renewable energy. The company already has over 40 land-based renewable systems across the North West region. The majority are solar arrays on roofs and open ground at its treatment sites across the North West, with a capacity of 45MW of power a year. It plans to install another 22 solar sites over the next two years.
While solar is the biggest renewable growth area for United Utilities, wind turbines and combined heat and power from wastewater sludge digestion form the main additional elements of the company's renewable energy strategy.