Utilities pledge commitment to new Skills Accord
Nearly 30 companies, including Thames Water and Amey, have pledged their commitment to the new and innovative Skills Accord, created by Energy & Utility Skills to help strategic workforce renewal.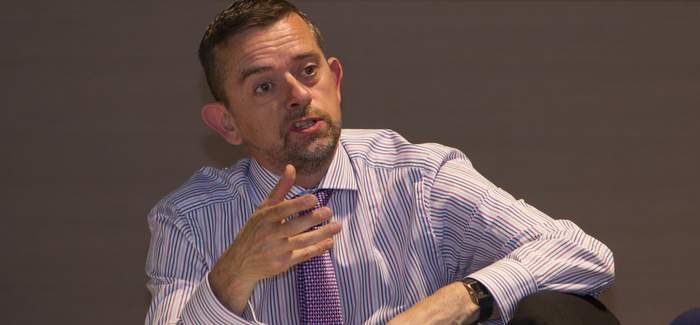 Nick Ellins
Launched at the House of Lords this week, the Skills Accord is a new way of advancing the energy and utilities sector and their supply chain to generate the required workforce capacity and capability. Amey, National Grid, SSE, Thames Water, and UK Power Networks, along with 22 key supply chain companies have signed up to the initiative, and Energy & Utility Skills will be encouraging more asset owner partners to sign up as well.
The energy and utilities sector is now poised to deliver its commitment to skills through the supply chain for years to come – leading to a future sustainable workforce
Energy & Utility Skills said the new accord is one part of the utility sector's new approach to strategic workforce renewal, and will ensure market contractors remain competitive whilst embedding relevant skills development in their organisations through their commitment to an annual contribution to the sector's overall training target of 5%, and encouraging the same through their supply chain.
Jan Ward, chair of Energy & Utility Skills, said: "This Skills Accord is one of the key priorities of the new sector partnership now underway, and I applaud these companies for testing the art of the possible, and by collaborating with each other to recruit and train skilled workers, increase mobility and efficiency, widen the available talent pool and consequently bring about strategic workforce renewal." 
Speaking at the launch event, Keith Waller, senior advisor at the Cabinet Office and HM Treasury's Infrastructure and Projects Authority, said: "One of the key challenges stated in the 2015 National Infrastructure Plan for Skills was how to incentivise skills investment through procurement. This requires innovative approaches to encourage the retraining and up-skilling of the workforce to meet future skills demands.
"The fact that employers within the energy and utilities sector were already working towards this remit in conjunction with Energy & Utility Skills through the management of the Procurement Skills Accord Project is very much welcomed."
Nick Ellins, chief executive of Energy & Utility Skills, said: "The Industrial Partnership Council of utility sector chief executives originally set the Skills Accord project as a priority, so that procurement competitions can help to enhance skills development through the supply chain. 
Five asset owning companies have driven the development of the Skills Accord as a pilot initiative over the past 12 months, supported by a further 22 supply chain companies, to address the sector's workforce challenge. 
With one fifth of the energy and utilities sector's skilled workers approaching retirement age, 36% of vacancies proving hard to fill in the sector (higher than any other UK sector), and 14% of all employers reporting skills gaps amongst their existing workforce, it is extremely apparent to that the sector needs to take action.
Ellins said: "All of the participating utility companies have pledged to embed the five commitments that make up the Skills Accord into their business, and also to undertake an annual review of performance to calculate their contribution to an overall sector training target of 5%. Eligible training must be for a technical, design, or operational role with a duration of greater than three months, and must contribute directly to the development of skills or capability to perform the role."