US offsite tank technique enters UK market
Infrastructure contractor Balfour Beatty (BB) has signed an exclusive partnership with US pre-cast construction specialist Dutchland to provide concrete tanks to the water and wastewater industry in the UK and Ireland. The partnership, which includes a licence agreement between Balfour Beatty and Dutchland, will see Irish firm Shay Murtagh Precast produce and install the tanks on a framework agreement.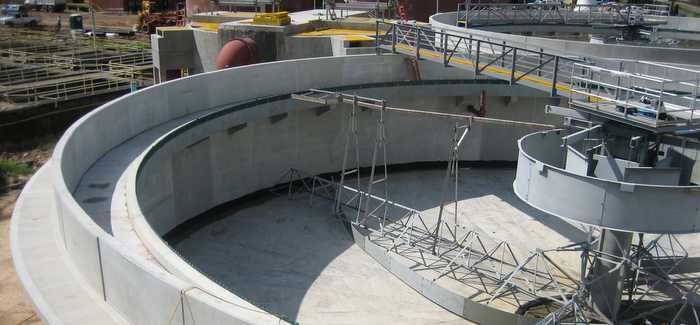 Shay Murtagh will produce and install a range of Dutchland tanks in the UK and Ireland
The circular, rectangular and elliptical pre-cast, post-tensioned concrete will be available to utility companies and other Tier 1 and 2 contractors. The "unique" design being brought to the UK by BB has been developed over 30 years by Dutchland, with more than 1,000 tanks successfully installed in the US.
The product differs from other methods used to construct modular concrete tanks in a number of ways. An innovative post-tensioning system protects from corrosion, the grouting technique provides uniform load distribution between panels, allowing movement between the base and wall during the tensioning operation.
The contractor says the benefits from this approach compared to in-situ concrete pouring include fewer vehicle movements and operatives on site, a reduced construction schedule and guaranteed finish quality, which fully maximises the compressive properties on concrete.
Terry Williams, head of technical services at Balfour Beatty – gas & water, said: "The focus within the industry to look at offsite construction methods has given us the opportunity to develop this exciting new product offering. We looked closely at international suppliers of precast solutions and we're delighted to be partnering with Dutchland Inc and Shay Murtagh Precast, both of which come with impressive portfolios of successful projects and strong safety performance.
"Balfour Beatty is committed to bringing clients the latest off-site modular construction methods, to compliment the BIM approach now being taken on many projects. These approaches provide a host of opportunities and improvements compared to traditional onsite builds.
"Safety, environmental and community impact, quality assurance, and programme management all benefit from the certainty and control afforded by the managed environment of an off-site build."
Ben Kauffman, president of Pennsylvania-based Dutchland, said: "Balfour Beatty is a world-class infrastructure business. Dutchland Inc is excited to partner with them and share our expertise to provide new capabilities to the water and wastewater market in the UK. We are confident that the partnership will be a successful endeavour for all parties involved."
Liam McGovern, contracts director for Shay Murtagh Precast, added: "At Shay Murtagh Precast we have over forty years of experience in delivering off-site precast post-tensioned concrete tank solutions to the water and wastewater industry and this product offering provides a very complimentary fit with our existing products and services to this sector."
The deal comes as many water companies are encouraging the use of offsite modular construction techniques to improve safety, programme efficiency and reduce carbon emissions. BB said all work is accredited with the highly regarded PCI and PTI Certification programmes, are Eurocode 2 compliant, and will be subject to an independent CAT3 review.