Urgent action required on UK engineering skills crisis, report says
UK engineering faces a growing skills crisis that could become substantially worse after Brexit, according to a new report published by E4E and the Royal Academy of Engineering.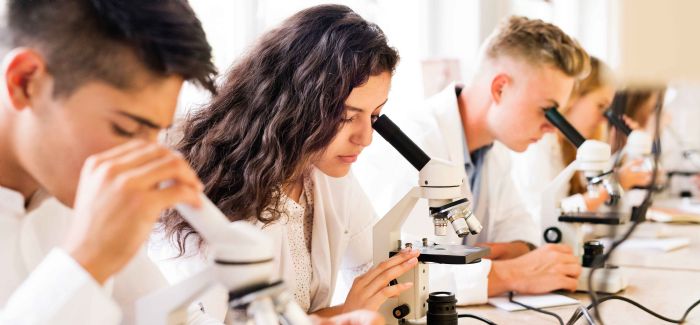 There has been only a modest increase in the number of people studying subjects that lead to engineering careers beyond the age of 16 since the 2013 review
The 2013 Review of Engineering Skills by Professor John Perkins, commissioned by Government, was a landmark report that reviewed engineering education from primary to professional for the first time.
The new report, 'Engineering Skills For The Future: The 2013 Perkins Review Revisited', warns of a "worrying stagnation" in the number young people opting to study subjects relevant to an engineering career beyond the age of 16 in the years since.
In schools, it found that while pupil numbers have increased since 2015, teacher numbers for maths, science, computer science and design and technology have not kept pace, and Government plans do not go far enough towards addressing recruitment and retention challenges.
"Since the 2013 review, the engineering community has raised serious concerns over the modest increase in the number of young people choosing to study STEM subjects that lead to engineering through the compulsory phase of education," the report said.
"Shortages of teachers in key subjects, a content-heavy curriculum, school accountability measures focusing attention on a narrow set of subjects and, until recently, poor-quality careers education have all played their part in limiting the number of people progressing towards engineering."
In higher education, where engineering is a high-cost subject that requires top-up grant funding and cross-subsidy, introducing differential fees could have a disastrous effect on take up of engineering degrees, the report says.
EngineeringUK already predicts a shortfall of between 37,000 and 59,000 against the annual demand for 124,000 engineering roles requiring Level 3+ skills, and the report warns that Brexit could substantially worsen the issue, with ONS Labour Force Survey data indicating that 7.7 per cent – or 560,000 – of those employed in UK engineering sectors are EU nationals.
"It is hard to predict at this stage exactly what the effect of future migration legislation will have on the supply of engineers from abroad although restrictions in labour flow are widely expected," the report says.
"While it is hoped that exiting the EU acts as a stimulus to focus both Government and industry on the need to develop a home-grown workforce, the rapid pace of technology development in industry combined with the length of time to fully train qualified engineers and technicians means that it is impossible to fill all engineering skills gaps in the near term only by increasing UK domiciled engineers and technicians."
There is also criticism of the lack of diversity in the engineering workforce, which is only 12 per cent female, compared to 46.9 per cent of the overall workforce. In addition, only 8.1 per cent identify as coming from ethnic minority groups, compared to 12.7 per cent in non-engineering sectors, and 12.2 per cent of the total population.
"In the 21st century, the continuing lack of representation in engineering is unacceptable," the report says. "It is important that the different points where females and people from BAME communities are being lost to engineering are identified as they ultimately contribute to the underrepresentation of these groups in the engineering profession."
The report concludes that if the industrial strategy is to achieve its aims, Government must nurture and grow its skilled engineering workforce to improve productivity and economic growth.
Since the original Perkins Review, the report found that scant progress has been made in addressing the UK's chronic engineering skills gap and calls on Government and the engineering community to take urgent action.
Siemens CEO Juergen Maier wrote in his foreword to the report that it is time to "put rocket boosters under our collective efforts to make engineering more inclusive" and that far more must be done to attract young people.
"We must ensure a constant and stable education system that produces many more engineers to meet our societal demands," Maier wrote. "There have been too many policy changes, and still too much fragmentation and complexity embedded into our education system. Let's do more to join this up, working in partnership with Government.
"And let's be honest, our education system is chronically underinvested in too. We need to invest more in our young potential engineers, critically preparing them for the wave of economic disruption that digital technology will create.
"Put simply, we need more STEM teachers in our system to inspire and create more opportunities for young people. And we all know our impending exit from the EU – however it transpires – makes this issue more, not less, acute."
Dame Judith Hackitt, chair of manufacturing trade body EEF, said: "Today's report is welcome but it is disappointing that it has taken five years to get to this point since the publication of the first Perkins report.
"It does reinforce, however, the need to desperately increase the pipeline of domestic talent into engineering ready for a post-Brexit world. The report shows that we have barely moved the dial on plugging the engineering skills gap in the last five years and now is the time for less talk which is taking place through a multitude of initiatives and more action by industry and education work together."
Read our feature on tackling the lack of diversity in the water sector here