Upgrade for Severn Trent laboratory in Bridgend
The First Minister of Wales Carwyn Jones officially reopened Severn Trent's laboratories in Bridgend on Friday (October 6th) after a major refurbishment.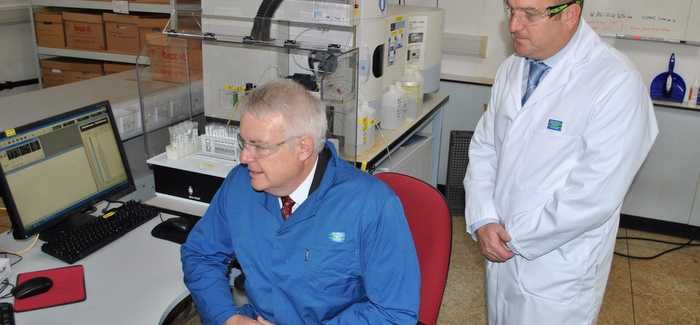 Carwyn Jones looks round the upgraded laboratory in Bridgend
The First Minister took a look round the site, which Severn Trent has spent more than £1M upgrading in recent months.
At the official reopening ceremony, the First Minister said: "It's fantastic to see the specialist work that is being carried out here in Bridgend to make sure that the water we drink is safe. I commend Severn Trent on their commitment to green energy and for creating a modern, environmentally sustainable place to work."
The Bridgend laboratories are the company's main chemical testing site employing 40 people with the majority of those being specialist chemists who deal with 800 samples of water every day from across the Severn Trent region.
The site has been in operation since 1993 when it was first opened by Welsh Water and has been owned by Severn Trent since 2000.
Neil Morrison, director of human resources at Severn Trent, explains: "The effective operation of our laboratories in Bridgend is essential to our entire operation to provide customers with high quality drinking water.
"Staff here play a key role in ensuring the purity and quality of drinking water, the samples are tested and checked against a number of criteria such as aluminium, taste, metaldehyde and appearance.
"This was a major refurbishment but, other than closing down for one weekend, we were able to keep the laboratories operating as usual throughout the works.
"As part of our commitment to sustainability we've taken great care to use environmentally friendly products during the upgrades, such as recycled paint, and we'd like to thank the Welsh Government who provided us with advice and support to achieve this."