University partners with Southern for rural sewage research
The University of Portsmouth is set to embark on a collaborative partnership with Southern Water to tackle some of the challenges faced by small, rural sewage works.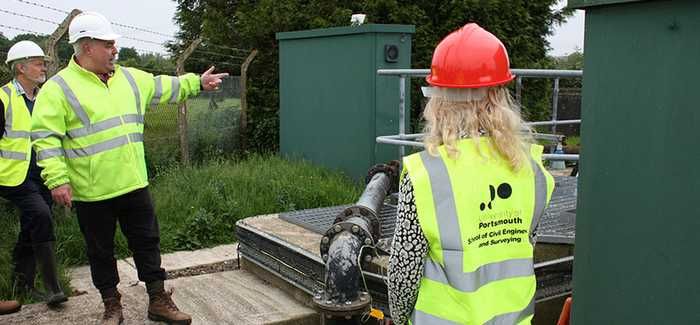 Dr John Williams with researchers at Petersfield
The three-year project will assess phosphorus removal technologies, which can be problematic for smaller sewage works due to stringent rules and high costs.
Project leader Dr John Williams, from the School of Civil Engineering and Surveying, said: "Small works are subject to the same environmental standards as large sewage works, however the technologies used at large works are inappropriate as they require intensive control and a level of operator involvement which is not feasible at remote locations.
"The first challenge is to address phosphorus removal technologies, this will be followed by studies of optimisation of existing assets and then evaluation of emerging technologies."
This collaboration is based around the University Environmental Technology Field Station at Petersfield Wastewater Treatment Works. Portsmouth is the only university in the UK to have a research field station at a full scale operational sewage works.
The facility is used by students and researchers to study wastewater treatment, sustainable drainage and contaminated sediments. It was recently upgraded with significant investment from the Faculty of Technology.
Dr Williams continued: "The facilities at Petersfield allow us to conduct full scale evaluation of sewage treatment systems and the laboratories allow for real sewage to be tested on site. This is an important capability for developing research and innovation projects with industrial collaborators like Southern Water."
The project will employ two dedicated staff and a PhD student for three years from May 2017 and involves an investment from Southern Water of over £560,000.
Elin Williamson, Innovation Strategy Lead at Southern Water, said: "The Innovation Hub at Petersfield Wastewater Treatment Works is a new collaboration which we're particularly excited about.
"We're looking forward to working with John and the team at Petersfield to tackle some of our small rural site challenges by looking at new technologies and approaches."