University opens research station at Southern sewage works
The University of Portsmouth has unveiled a field research station at an operational sewage works managed by Southern Water.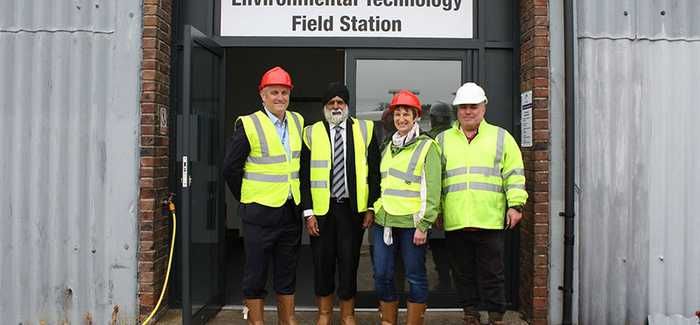 L-R: Dr Barry Cleasby (Southern Water), Professor Pal Ahluwalia, Sarah Duckering, Dr John Williams (all University of Portsmouth)
The Environmental Technology Field Station is used by students and researchers to study wastewater treatment, sustainable drainage and contaminated sediments.
It is located at Petersfield Wastewater Treatment Works, which is managed by Southern Water.
University staff and guests from Southern Water were invited to tour the facilities, which have recently been refurbished.
Dr John Williams, from the School of Civil Engineering and Surveying, said: "The successful collaboration between the University and Southern Water means students get the chance to see the workings of a real sewage works.
"It's fantastic for students to visit the site, throw on hard hats, high-vis jackets and steel-toed boots, and get genuine experience of working with a water company.
"We were delighted to show the facility off to guests, particularly the new lab equipment, which allows for complex wastewater testing to measure general water quality and deciphering the fate of contaminants."
The facility is mainly used by the University's Environmental Technology Research Group (ETRG), which includes engineers, microbiologists and chemists. The Group investigates wastewater issues such as fats, oils and grease in sewers. It also investigates rainwater harvesting and the fate of pharmaceuticals during the sewage and sludge treatment process.
The site is self-contained with a supply of effluent from the different water treatment processes, as well as facilities for chemical and microbiological water quality analysis.
Dr Williams said: "The facilities at Petersfield allow us to conduct full scale evaluation of sewage treatment systems and the laboratories allow for real sewage to be tested on site. This is an important capability for developing research and innovation projects with industrial collaborators."
Dr Barry Cleasby, Innovation Strategy Manager for Southern Water, said: "We are delighted that the University of Portsmouth have decided to invest in the facility at our Petersfield site. It is a sign of the strong partnership we are developing with the University and is a huge opportunity for our business to tap into the high quality skills and expertise of the team at the University and also helps us to support the development of the next generation of water and wastewater engineers."