University creates drinking water out of thin air
A researcher at Nottingham Trent University (NTU) is creating drinking water from thin air using re-purposed refrigerators. The invention could help people in developing countries, and a working prototype is currently on display in the university's Art and Design Degree Shows Festival, taking place until and June 7, 2014.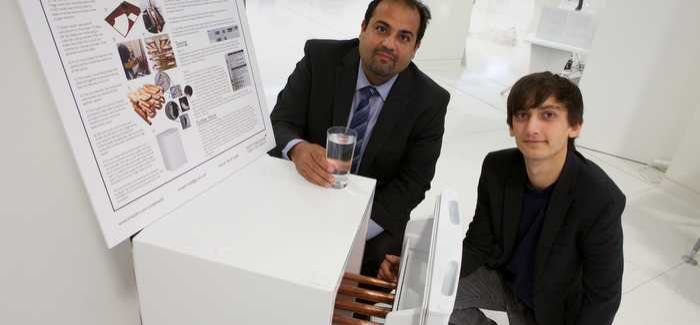 Dr Amin Al-Habaibeh (left) with Joe Wild, who also worked on the project
The machine can be run by solar power, and is designed for use in humid climates. It works by drawing air into a cool fridge with reused computer fans and passing it through a cold copper tube. As the warm, humid air cools in the tube the vapour contents condense to form water.
Enough water to meet the daily needs of a small family can be produced by the technology.
The water is collected at the bottom of the fridge in a container and stored at a low temperature to reduce any health risks or contamination. Minerals can be added to ensure that it has the right balance of nutrients.
Dr Amin Al-Habaibeh, a reader in advanced design and manufacturing technologies at the university's School of Architecture, Design and the Built Environment, said: "This project shows how everyday items which are often thrown away by many societies could be reused to help solve the problems of developing countries. Rather than dispose of unwanted refrigerators and freezers, we could repurpose them to help provide the clean drinking water which is needed by thousands of people in other countries.
"It's a fantastic example of how we can help people in the developing world while also being sustainable by supporting reuse and recycling."