University backs 'fats to fuel' scheme
A 'fats to fuel' recycling project that harnesses energy from waste cooking oil has received the support of up to 1,000 students from the University of Bradford.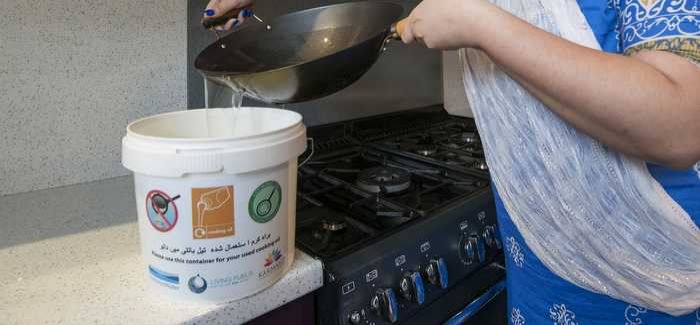 Cooking oil is poured into a 'fat vat' rather than down the sink
Students at the university's student village in Bradford city centre, called The Green, will now be encouraged to recycle their waste cooking oil, rather than pouring it down the kitchen sink.
It is the latest extension to the project being led by the Karmand Community Centre in Bradford Moor, supported by Yorkshire Water and local politicians. Collecting fats and oils in 'fat vats' instead of putting them down the reduces the risk of blockages in the city's sewer system.
Duncan Woodhead, Network Protection Technician at Yorkshire Water, said: "We are delighted the University of Bradford has signed up this scheme led by the Karmand Centre, which is now expanding throughout the city at a rapid rate. Recycling cooking fats into fuel has great renewable energy potential and can also really help us protect the city's sewer system from blockages caused by cooking oil. This will ultimately mean less money spent on sewer repairs and help us keep customers' bills as low as possible."
In 2013, Yorkshire Water invested £2.3M on the sewer system in Bradford including work on sewer blockages. But through this initiative, the firm hopes to reduce this spend to help keep customers bills as low as possible.
Students living at The Green have been supplied with 'fat vat' containers so that after cooking they can collect their waste cooking oils and greases. The containers, once full, will then be collected by the Karmand Centre to sell to renewable energy companies to refine and turn into carbon neutral bio fuel.
Ben Tongue, Environmental Manager from the University of Bradford, said: "This scheme makes The Green even more sustainable, now you can recycle, compost your food waste and turn your waste cooking oil into biofuel. This is a great element of our Eco-versity programme pushing sustainability at the university and helping us to make a 35% reduction in our carbon footprint since 2005."
Since the scheme began in 2014, it has already been a great success with 1,000 litres of cooking oil collected and diverted from Bradford's sewers.  The tubs of cooking oil are collected by the Karmand Community Centre in a specially branded van provided by Yorkshire Water.
110 kilotonnes of used cooking oil is disposed of each year by UK households, which could power 110,000 homes with carbon neutral electricity.
Just one litre of the cooking oils can generate enough electricity to make 240 cups of tea, power a flatscreen television for three hours or a microwave for five hours.