United Utilities tests airport vehicle for aqueduct inspection
Engineers at water company United Utilities (UU) have been testing the use of an airport baggage vehicle in concrete pipes deep below the North-west countryside. The trial is in preparation for an inspection of a huge aqueduct.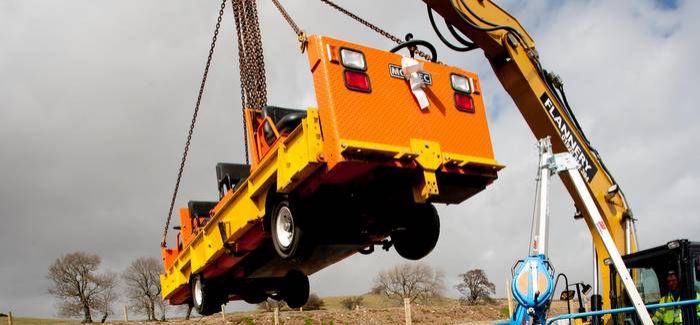 UU's senior project manager, Paul Anderton, said the compact electric vehicles "are perfect for running safely and cleanly" through pipes. Anderton said: "We have been testing a specially-adapted version in an empty pipeline under Cumbria's Tarn Moor – high in the Bampton Fells - in preparation for a major inspection of the huge aqueduct which links the Lake District with Manchester.
"The beauty of these vehicles is that they don't have dirty, oily engines, which could pollute our pristine pipes if something went wrong. They also naturally follow the safest line when used inside huge concrete pies, so there's no danger of them trying to run up the sides like a rollercoaster."
UU is planning one of the most extensive inspections ever carried out on the 90km long Haweswater Aqueduct, a concrete pipe some 2.6m in diameter. It can only be done when the pipeline has been temporarily emptied so that people can get inside.
Anderton explained: "To make sure it's carried out as quickly as possible, we'll be literally flooding the pipeline with engineers. Over a two-week period, our plan is to send around 80 people into the aqueduct, which in places is hundreds of feet deep."
United Utilities has ordered at least 12 of the Canadian-built Motrec shuttle vehicles, which have a maximum speed of 10kph, and will adapt them in its own workshops. and afterwards be nattily nicknamed a VAS, or Vehicle Access System.
Anderton said: "Some points will be 9km from the nearest access point. These vehicles will not only carry workers to where they're needed as quickly and effectively as possible, they'll also tow essential welfare equipment to keep them comfortable while they're at work. One will be kitted out as a rescue and first aid vehicle, in case anyone feels unwell while they're down there."
The exact date of the inspection has not yet been finalised, but could be as soon as later this year. It will provide the first detailed information on the condition of the 60-year-old concrete pipe's full length since it was built in the 1950s.