United Utilities helps fund SuDS tree research in Manchester
Greater Manchester is at the centre of research to pinpoint how street trees and landscaping could help reduce flooding, improve water quality and boost people's wellbeing.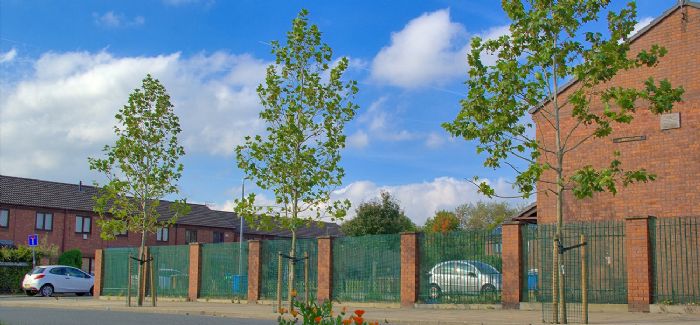 SuDS has already shown indications of success in Howard Street, Salford
Two independent studies – both backed by United Utilities – saw more than 30 trees planted in pavements and front gardens in Salford, Eccles and Bury.
In one, experts are using trees to vastly reduce the amount of rainwater entering our sewers during heavy downpours.
In the other, a PhD student is researching if planting trees and container plants in paved-over front gardens improves people's sense of wellbeing.
It is hoped that both will boost the chances of finding a more eco-friendly solution to flooding and pollution than simply building and upgrading more and more sewers and treatment works.
United Utilities strategy manager Jim Airton said: "As more and more of our towns and cities are paved over for development, more rainwater ends up in the public sewers rather than getting absorbed by the ground. In heavy downpours, this can overwhelm pipes that were never designed to hold so much, leading to flooding or overflows of dirty water into rivers and streams."
One way of investing billpayers' money more innovatively and efficiently could be to use sustainable urban drainage schemes, which harness the power of nature to slow down and reduce the flow of water.
Airton added: "If we can prove the benefits of the technology, SuDS projects which use trees and other green interventions to help manage and filter rainwater might be a more efficient way to deal with the problem.
"Elsewhere in Manchester, we have installed another type of SuDs project at a primary school in Sale. Here, rainwater has been diverted away from the sewers altogether and into specially planted rain gardens in the school grounds.
"These two additional research projects will provide us and other key partners with the evidential data we need to give decision-makers confidence to use it."
The first study – a partnership between the Environment Agency, the University of Manchester, City of Trees, United Utilities, Urban Vision and Salford City Council, and part funded by the EU LIFE Natural Course project and supported by MUSE developments – monitored the water management benefits of trees planted in specially designed trenches or pits in Salford and Prestwich.
In two years, a system of just three London plane trees in Howard Street, Salford, retained up to 78 per cent of the rainwater running off the roadway and the rest was delayed up to three hours before it found its way into the drains.
Now, monitoring is about to start on a much bigger scheme in Prestwich, where a further nine SuDS-enabled trees have been planted along the A56 Bury New Road, in conjunction with Bury Council and MUSE Developments. Because the road is much busier and dirtier, its data will also show the impact trees have on water quality.
In the second study, the focus is on the mental health benefits of installing plants in gardens that had previously been paved over. According to the Royal Horticultural Society, who are also sponsoring this research as part of its Greening Grey Britain campaign, more than one in five of the North West's front gardens have been paved over – up from less than one in 20 in 2005.
Researcher Lauriane Suyin Chalmin-Pui installed trees and landscaping in 25 gardens in Pendlebury in Salford and a further 13 gardens in several streets in Eccles.
Although the full analysis is not yet complete, the initial results suggest the impact is favourable.
Pete Stringer of the charity City of Trees said: "Manchester needs more green infrastructure and more climate change resilience, so SuDS schemes are something we should be doing much more of. In addition to providing a water management function, trees provide a whole range of other benefits such as cooling and cleaning our air, providing habitat for wildlife and creating nicer places for people to live and work in.
"It's great that United Utilities is embracing the concept and with this research we hope that SuDS will become more common place especially in our urban areas."