United Utilities gives old service reservoir new lease of life
United Utilities engineers are working underground to create a new underground service reservoir within an existing service reservoir.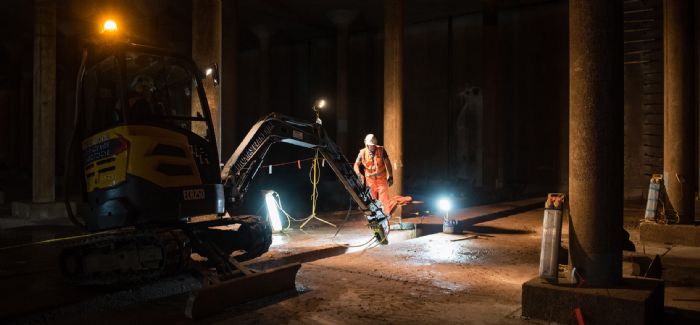 The plan is expected to help reduce construction costs by around 75 per cent compared with building a brand-new reservoir.
The water company is currently working on a site in St Helens that has three existing underground service reservoirs. Two are no longer operational and the company is utilising the space to construct a completely new service reservoir, which will serve over 60,000 homes in the area.
Daniel Smith, project manager from United Utilities, said: "This really is a rare treat for us – usually our service reservoirs are full of water ready to supply our customers, but this project has meant we can get inside. It's such a unique and beautiful space to work in.
"What is also important about this project is, by working smarter and more innovatively, we are using an existing asset to keep construction costs down whilst still providing our customers with the highest quality of water.
"Building a new reservoir from scratch would not only cost considerably more, disruption to the local community would also be greatly increased."
When complete the new service reservoir will have a storage volume of 32 mega litres.
Engineers will also be sealing the roof of the new service reservoir with a hi-tech membrane.
"This is all about improving the resilience of water supplies," Smith added. "The multi-layer intelligent membrane allows us to stop rainwater or run-off from getting into the tank and in the unlikely event the roof was ever to leak, a grid of electrical wires will be able to pinpoint the precise location and send a signal to our 24-hour control room."