Uni and Yorkshire Water team up to reduce lead in tap water
University of Huddersfield scientists and Yorkshire Water have joined forces to help reduce the traces of lead occasionally found in tap water.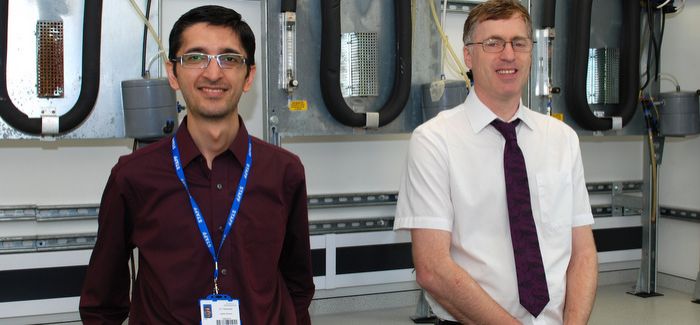 Huddersfield researchers Dr Taher Rabizadeh and Dr Jeremy Hopwood with testing equipment supplied by Yorkshire Water
The university has been supplied with equipment from treatment plants, including rigs that mimic the lead pipes that connect to the mains in some older houses. The equipment will enable project leader Dr Jeremy Hopwood and postdoctoral researcher Dr Taher Rabizadeh to simulate aspects of domestic plumbing systems, and replicate the problems that can arise from the lead piping that still connects a large number of homes to the mains.  
A key aim of the £305,000 project is to identify whether any further improvements can be achieved by changes to water chemistry to reduce exposure to lead.
For their experiments and analysis, the two chemists will use both tap water and water that they have synthesised in the new lab. They will probe the effects of pipeline corrosion and will also investigate whether different levels of treatment are required in Yorkshire's hard and soft water areas.
Yorkshire Water is funding the research as part of its long-term strategy to remove lead where it can, and minimise lead solubility elsewhere. It estimates around 900,000 properties in the region have some lead pipe associated with them.  
Another key aim is to ensure compliance with the current legal UK limit of 10 micrograms of lead per litre.  
The University of Huddersfield has a long-standing research relationship with Yorkshire Water and also taking part in the research are Professor Paul Humphreys and Dr Gemma Sweeney, alongside the utility's Jenny Banks, John Haley and Stephen Coleman.
One strand of the project will focus on the "particulate lead" that can be found in tap water as a result of corrosion in the lead service piping that links houses to the water main and within the property and responsibility of householders. In addition to their lab work with the lead rigs, the university researchers will analyse water samples taken from homes across Yorkshire which reflect the range of water types found.
A key area of the research will be an examination of the techniques, such as the addition of phosphate that are adopted by water companies to control lead solubility said Dr Hopwood, but a region such as Yorkshire has different types of water, hard and soft, dependent on alkalinity levels and dependent on the source.  
For example, water from upland reservoirs in the Pennines will tend to be soft, while water taken from rivers, and in area such as the Vale of York, is hard. This results in subtle differences in the minerals formed when water, including phosphate, comes into contact with the surface of lead pipe.
The aim is to develop a mathematical model, including factors such as alkalinity, which can predict lead levels, meaning that Yorkshire Water can review its current reduction strategies at treatment plants and these could be further tailored to the nature of the local water chemistry.
Another important strand of the 27-month project will be an investigation of the solubility of lead phosphate minerals. This will be achieved through using water from a range of sources.