Unfinished Horncastle flood storage reservoir can be used, says EA
The Environment Agency (EA) has announced that the long-awaited Horncastle flood storage reservoir can now be used to reduce flood risk to local homes and businesses.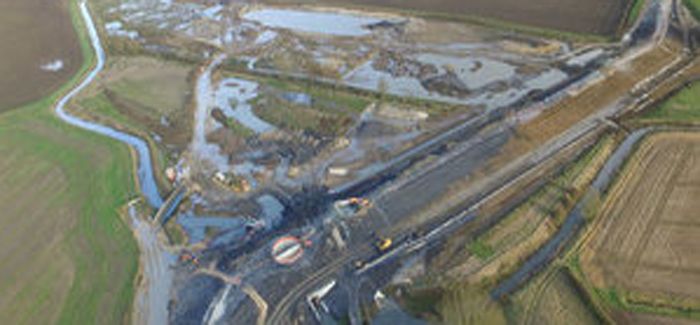 Although there is still some work to complete onsite, the reservoir is finished enough that it can be used to store excess water from the River Bain during high flows. The reservoir, which can hold 1.5 million cubic metres of water, will reduce risk to 169 properties in the town.
Deborah Campbell, flood and coastal risk manager at the EA, said although the project is not completely finished yet, local people would already be benefitting. She said: "We're currently working to finish the final profiling of the embankment, install erosion protection and commission the mechanical and electrical items. Although the reservoir can't be used to full capacity until these works are completed, we expect to be finished this spring, weather permitting.
"We're working closely with all our partners to ensure this major project is complete as soon as possible."
Work is also expected to finish this spring on two flood storage reservoirs on the River Lud near Louth, although these both were declared fit for use at the end of last year.
Together, the three reservoirs reduce flood risk to more than 350 properties.
They were constructed in partnership with Lincolnshire County Council, East Lindsey District Council, Louth and Horncastle Town Councils, Anglian Water, and Lindsey Marsh and Witham Third Internal Drainage Boards.