UKSE funding enables Clearwater to expand
Engineering firm Clearwater Controls is set to make waves in international markets following a six-figure deal with UK Steel Enterprise (UKSE).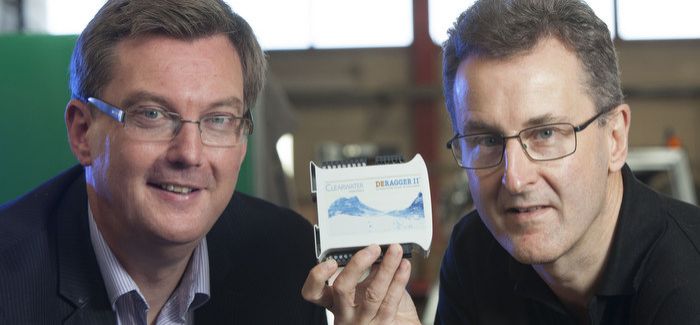 UKSE's Scott Webb (left) with Simon Crompton, of Clearwater
The Grangemouth-based business has received both loan and equity backing from UKSE, a Tata Steel subsidiary set up to further economic growth in traditional steel communities. The funding package is one of the largest to ever be awarded by UKSE, and will be used specifically to assist the company increase operations, both within the UK and worldwide.
Since it was founded in 2012 Clearwater Controls has received widespread industry acclaim for its device which prevents blockages in wastewater pipes. Developed in partnership with Scottish Water, the 'Deragger' is one of the only intelligent products of its kind available in the market. Its real-time detection mechanism provides an efficient solution to wet-wipe type obstructions by removing detrimental materials before they cause harm. 
By eradicating both minor and major blockages, the revolutionary device increases the efficiency of the pipes, thereby reducing energy consumption and significantly cutting operational costs.
Clearwater Controls was originally founded as the research and development division of ID Systems UK, an engineering firm which has historically received backing from UKSE. The latest funding package will be used to aid Clearwater Control's expansion, by supporting pilot projects in new markets and allowing them to hire more staff.
Simon Crompton, managing director at Clearwater Controls, said: "This is an exciting time for our organisation. We have started to build a presence in the USA, and have opportunities developing in Europe and Australia. This funding will be crucial in helping us to increase our international penetration.
"We are grateful to UKSE for believing in us and giving us the support we need to expand."  
Scott Webb, regional executive at UKSE, said: "Thames Water recently announced it spends almost £1M a month removing non-flushable items from London's network of wastewater pipes. This a huge problem facing the UK and the Deragger will help to combat these types of issues.
"Clearwater Control is a very innovative business which has the potential to achieve significant success on the international stage and we are glad to be joining them on what is sure to be a very exciting journey."