UK's largest ice-pigging scheme underway
Northumbrian Water (NW) is undertaking one of the UK's largest ice-pigging projects through a deal with Morrison Utility Services (MUS). The £4M trunk-main cleaning contract forms part of NW's two-year Main Event programme of works, which will cover some 218km of water main in parts of the lower Tyne Valley, Newcastle, North Tyneside and Gateshead.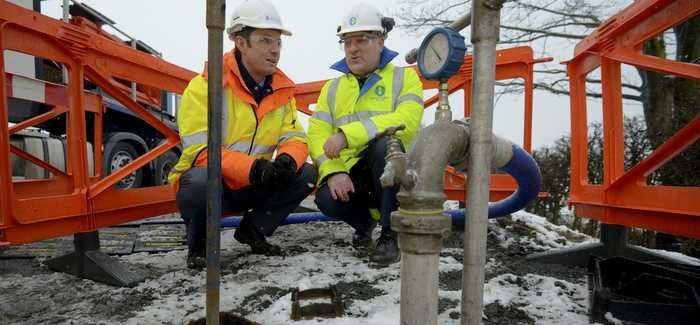 Graham Neave, operations director, Northumbrian Water, and Matthew Stephenson, operations director, Aquaology, monitor ice entering a main during Northumbrian Water ice-pigging trials
MUS's contract, which began in September 2013, includes the enabling, cleaning and rationalisation of approximately 44km of mains, ranging in size between 200mm (8") and 760mm (30") diameter. It covers the Fenham, Gosforth and eastern areas of Newcastle-upon-Tyne and North Tyneside.
The ice-pigging technique, which won Northumbrian Water the technology innovation category of the Water Industry Achievement Awards in 2009, will be delivered by ice-pigging specialist Aqualogy, a division of Spanish water group Agbar. It will be used on approximately 20km of trunk mains in the area.
Due for completion in 2015, MUS says the deployment of ice-pigging technology on the programme provides Northumbrian Water with a cost-effective alternative to traditional pressure jetting.
Richard Johnston, project manager, Northumbrian Water, said: "We look forward to working with the Morrison Utility Services trunk mains cleaning team over the next two years on the new and innovative ice pigging cleaning technique, whilst complimenting the existing award winning Hydrascan cleaning technique. This further establishes NWL as leading the way in the water industry with the adoption of innovative trunk mains cleaning technology and compliments our customer-focussed approach."
Mike Harrison, executive director, MUS said: "The ice-pigging technology that we are deploying on this contract compares extremely well against more traditional network cleaning methods and will enable us to generate significant efficiency savings on our client's behalf, whilst ensuring reduced customer disruption and supply interruptions as enabling works are rarely required."
Ice-pigging is a method of using ice slurry to clean pipes, typically potable water mains which need to maintain the highest standards of water quality. The ice is normally inserted into the main using existing fittings such as fire hydrants and is pushed along by the mains water, taking with it sediment from inside the pipe.
The process is very effective in removing manganese, iron, bio-film and other foreign matter and is suitable for raw water, potable water and sewer networks across all pipe materials.