Two water companies fined over sewage pollution
Severn Trent Water and Northumbrian Water have both been fined thousands of pounds by magistrates having been taken to court by the Environment Agency (EA) for sewage pollution incidents.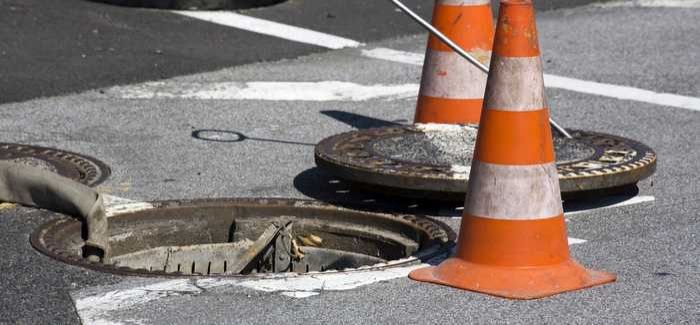 A sewer blockage caused a manhole cover to lift in one pollution incident concerning Northumbrian Water
Northumbrian Water was fined £30,000 in total after it admitted and was sentenced for two offences of discharging polluted matter into watercourses in 2013. The two separate cases were both heard before Peterlee Magistrates' Court on April 22.  
Chris Bunting, prosecuting for the EA, told the court that the first pollution incident affected Kyo Burn, the source of the River Team, situated to south-west of Stanley, in June.
The watercourse was running an unusual grey colour and smelt of blocked drains, and an ecological survey found sewage fungus and dead invertebrates along a 1.8km stretch of the watercourse.
Investigating officers found that the burn had been affected by sewage discharge from a storm overflow on the Tanfield Trunk Sewer. The overflow had operated incorrectly because of a blockage, and the company had not been aware because its monitoring equipment on the sewer was not working correctly.
The second pollution incident occurred in August in Bowburn Beck, which flows into the River Wear south of Durham City. This watercourse was affected with sewage when a blockage in a sewer had caused a manhole cover to lift, allowing sewage to flow out, across a farmland and into the beck.
Northumbrian Water was informed about the problem but failed to investigate the issue for four days, with the company claiming it had difficulty accessing the site because of the presence of dogs on the farm.  
The blockage was caused by rags, oil, fat and grease.
Northumbrian Water admitted one offence for each of the pollution incidents. For the Kyo Burn offence, the company was fined £14,000 and ordered to pay £3,996.04 costs and a £120 victim surcharge. For the Bowburn Beck offence, it was fined £16,000 and ordered to pay £4,772.52 costs.
Severn Trent Water pleaded guilty at Telford Magistrates' Court to polluting the Pudding Brook in Cleobury Mortimer, Shropshire with untreated sewage. It was fined £7,500 and ordered to pay £2,232.60 in costs, along with a £15 victim surcharge.
The EA brought the charges under Regulation 38(1)(a) and Regulation 12(1)(b) of the Environmental Permitting Regulations 2010.
On September 29, 2012 the EA received a report from a local resident that sewage was discharging from a manhole at Cleobury Mortimer and was consequently entering the Pudding Brook.
An EA officer spoke to Severn Trent Water's Customer Operations Centre, which confirmed that another incident had been reported the previous day but it had no further details. During this telephone call the officer asked for a Severn Trent Water crew to attend the site of the pollution to investigate the claims.
On arrival a Severn Trent Water camera survey found that an electric cable had been installed incorrectly through the sewer pipe and was trapping rags and other debris leading to a blockage of the sewerage system. As a result sewage was flowing from a manhole into a drain and consequently into an adjacent stream.
Severn Trent Water's contractors brought in a tanker and cleared the blockage and it was agreed that further tankering would continue so that no further discharges would occur. However, a second tanker did not arrive.
On the following day it was reported that sewage was still entering the stream and a further tanker was sent to site where it remained until the source of the blockage was removed and the sewer repaired.
Severn Trent Water has re-trained staff and contractors, and has ensured that all crews now carry maps of the sewer system.