Tropical seeds top chemical treatment, say researchers
Seeds from the Moringa oleifera tree could be used to purify water in large water treatment plants in the UK, according to researchers led by Professor Adrian Rennie of the Department of Materials Physics at Uppsala University in Sweden. Earlier research, in 2010, described how very small amounts of protein from these seeds could bind strongly to surfaces and cause contaminant particles to aggregate.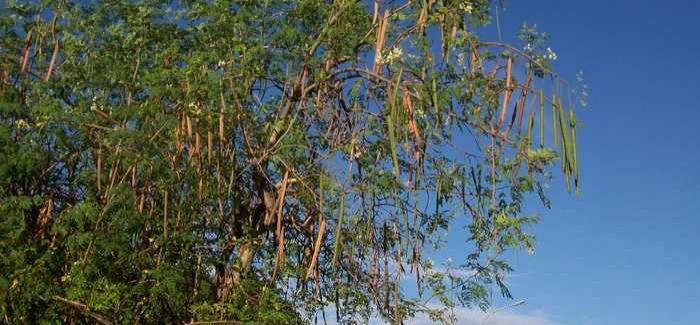 The Moringa oleifera tree, which is widely grown across Africa and Asia
It was originally thought that the application could be used widely for cheap treatment in the developing world. Now the group, which includes researchers from Sweden's Lund University as well as Namibia, Botswana, France and the US, has discovered that seed material can deliver more efficient purification than conventional chemicals in use globally, such as aluminium sulphate.
There is a broad interest in new, sustainable methods for water treatment and the research group believes the seeds have the potential for worldwide application, including the UK. They have already presented results to government agencies and public bodies, particularly in Namibia and Botswana.
The results of the study, published in the journal Colloids & Surfaces, show that the clusters of material (flocs) produced using the Moringa seed protein are much more tightly packed than those formed with conventional flocculating agents. The researchers say this is better for water purification as such flocs are more easily separated. They have also estimated the optimum amount of seed extract that should be used to minimise residues in treated water.
This international collaboration used research facilities with neutron-scattering instruments at the Institut Laue-Langevin in France and the NIST Center for Neutron Research in the US.
There are now discussions on best use of Moringa seeds, both to substitute conventional materials in large water treatment plants and in small-scale units. "We can envisage that similar materials could be used in Europe both to produce drinking water and to treat wastewater," said Prof Rennie.
Lionel Porcar, from the Institut Laue-Langevin, said: "Neutrons are an ideal tool for understanding the internal structure of these complex organic aggregates, thanks to a contrast matching technique that only highlights the protein components absorbed to the particles. Additionally the use of ultra-small angle neutron-scattering allowed the mechanism of aggregation of these large flocs to be followed non-invasively."
The work has been funded by the Research Links programme of the Swedish Research Council and the Swedish International Development Cooperation Agency (Sida).