THP gets the go-ahead at Seafield
An innovative process to treat sewage sludge while generating green energy is to be introduced at Seafield wastewater treatment works.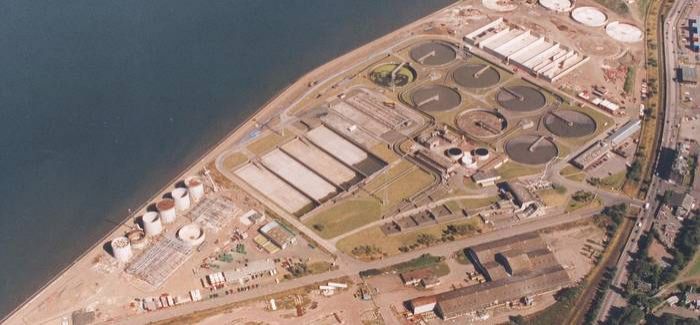 Aerial view of Seafield wastewater treatment works on the Firth of Forth
Scottish Water's PFI partner, Stirling Water, is investing £14M in a thermal hydrolysis plant (THP) within the works, which treats wastewater from Edinburgh and surrounding areas. Contractor MWH Treatment will begin construction of the new facility in the next few weeks.
The process will pasteurise the leftover solids from wastewater treatment before being further processed in the six existing anaerobic sludge digesters.
Heat breaks the sludge down, making it easier to digest by natural bacterial action, and helps generate more biogas which in turn is used to generate renewable electricity on site.
The final processed sludge also then becomes suitable for onward use as a fertiliser. As a result around 30% less sludge will need to be transported from Seafield after treatment, meaning a reduction in traffic in and out of the site.
Bill Elliot, Scottish Water's regional community manager for Edinburgh, said, "This is a safe and cost-effective way to dispose of leftover sludge from sewage treatment at Seafield. It produces sludge which is suitable for use as a fertiliser and means less solid matter is left over, resulting in fewer lorry movements in and out of the site.
"It has the added advantage of helping the Seafield site become increasingly energy self-sufficient, as we are able to use the biogas generated to help power the wastewater treatment plant, helping to reduce the carbon footprint of the site.
"It is an environmentally-friendly process which will help lower the overall odour potential of the sludge processing stream."
Kenny MacAskill, MSP for Edinburgh Eastern, said, "I welcome news of investment in the THP plant at Seafield. Scottish Water are happy to engage if people have questions and I have no doubt that they will continue to work together along with other stakeholders for the benefit of the area."