Thames Water uses military tanker to keep sewers running
Thames Water is using a tanker designed for use by the military and United Nations relief teams to keep its sewers running smoothly.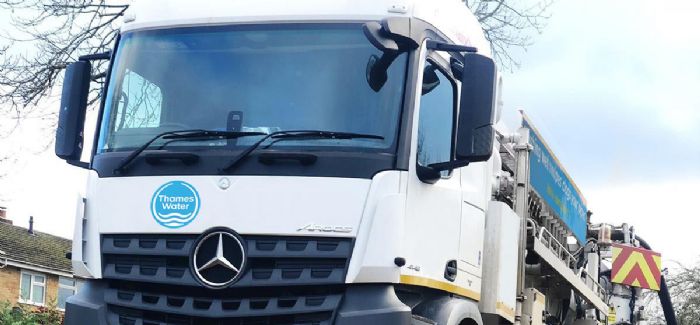 The JHL recycling jet vac tanker is being used by the company to access remote sewers and culverts across the most difficult terrain, helping to prevent pollutions in more isolated locations. 
Many hard-to-reach sewers run underneath farmland or in remote fields. The new monster tanker has enhanced ground clearance plus eight-wheel drive, meaning it can transport operational teams across fields efficiently. 
Chris Wood, the vehicle's main driver, said: "This is an extraordinary piece of kit. It makes our off-road work much more productive and allows us to react more quickly to potential pollution incidents. 
"Importantly, because I can drive right up to a manhole wherever it is, and vacuum blockage material from the sewer, we don't have to send in a confined space team which is a major safety boost. 
"There hasn't been a project yet where we haven't felt confident that we can reach an off-road sewer. Even when we've been axle-deep in mud, it has kept on going." 
One of the more notable jobs it has been used on was in Long Hanborough in West Oxfordshire, where it trundled across 1,000 metres of churned-up farm and construction land to carry out a large sewer clean.  
Two engineers have undergone specialist training to be able to drive the tanker, teaching them expert skills for tricky terrains, and to ensure all off-road hazards are at the forefront of their mind. 
Thames Water recently submitted its £10.9 billion business plan for 2020-25, which includes a commitment to reduce pollution by 30 per cent.