Thames Water Trust Fund celebrates 10th anniversary
A special celebration has been held to mark the 10th anniversary of the Thames Water Trust Fund, which has helped thousands of customers experiencing financial difficulties.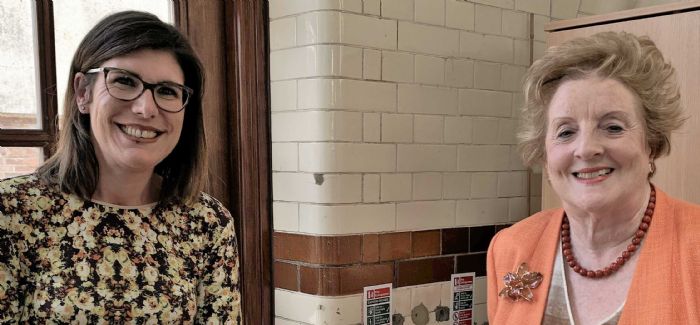 Thames Water's Kelly Macfarlane, left, with trust fund chair Linda Perham
From providing household goods, such as cookers and washing machines, to support with paying bills, the trust has been a vital lifeline for many people.
As well as helping individuals and families it also provides grants to community organisations that offer advice to those struggling with debt.
An event was held at Walthamstow Wetlands to mark the success of the fund, which will continue to make a difference to customers across the Thames Water region.
Kelly Macfarlane, Thames Water's customer experience director, said: "The trust fund is so important when it comes to helping those who are facing financial hardship and I'm really proud of the support it provides.
"Some of our customers can end up in financial difficulty, often through no fault of their own, so being able to turn to this fund can make a real difference.
"It's been great to celebrate all the good that's been done over the last decade and I'm looking forward to the next 10 years."
The Trust Fund, which is managed by Auriga Services, helps a wide range of people, and is financed by Thames Water investors who have put in millions of pounds to ensure its continued success.
Linda Perham, chair of the trust fund, said: "The Thames Water Trust Fund is delighted to be celebrating a decade of supporting customers coping with hardship or disability of whom over 24,000 have applied for assistance. 
"In that time, 67 grants have been awarded to over 30 organisations with a combined value of £2.6 million. This funding has created 63 jobs and more than 200 volunteering opportunities with services reaching over 30,000 people."
Helping customers in vulnerable circumstances is at the heart of Thames Water's business plan. As well as the continued support of the trust fund, the UK's largest water company has committed to getting 410,000 people on its priority services register by 2025.
This means they will receive a personalised service to help with their needs while also having bottled water delivered to their home should there be a supply interruption.
Thames Water will also put 200,000 customers who find it hard to pay their bill on a special social tariff to receive discounts of up to 50 per cent off their bill.