Thames Water trials sewer infiltration survey system
Thames Water has trialled a hi-tech system which uses electrical scanning to detect infiltration of groundwater into sewers.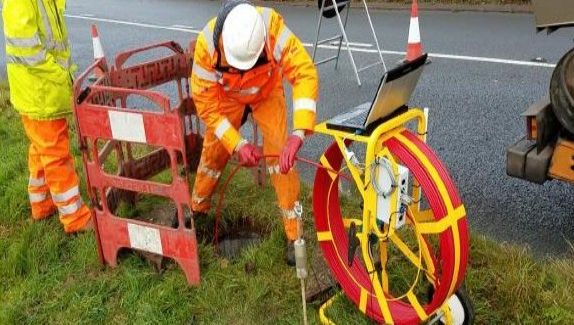 The Electroscan system represents a quicker and more efficient method of surveying sewers than traditional CCTV surveys, helping to target sewer improvements more effectively.
Sewer infiltration by groundwater can cause significant problems during the wetter months of the year, as the level of groundwater rises and it seeps into pipes through defective joints and cracks.
Although not significant in isolation, inflow from these defects over many kilometres can add up to large flows which can in turn lead to sewer flooding, increase the risk of pollution events and restrict the use of toilets.
In addition to the potential impact on customers and the environment, the extra volumes of water in the pipes means that more pumping is needed, adding to energy costs and carbon emissions. To operate sustainably, it is therefore important that infiltration points are spotted early and repairs targeted effectively.
Identifying defects and leaks in sewers has traditionally been undertaken using CCTV surveys. While effective, this technique can be time-consuming and surveys are not always conclusive which makes it difficult to target repairs efficiently.
In contrast, the Electroscan system uses an electrical probe to measure any 'leakage' of electrical current from within the sewer pipe out to the surrounding soil. This can indicate the position of a defect, where ground water could seep in to the pipe.
For smaller sewers, the probe is pushed through the pipe on a flexible rod and a stopper is installed at the downstream manhole to temporarily back up the flow.
For larger sewers, the electrical probe and cable can be pulled through the pipe using a jetter hose which also provides the water needed for the electrical current to make contact between the conduit and the outside of the pipe.
Unlike CCTV surveys, Electroscan can be operated while the sewer is full of water, which is an advantage if surveys need to be carried out during periods of infiltration or flooding.
Although only limited trials have been carried out at three locations, project lead David Walters is quietly optimistic: "Early results are encouraging with a number of minor leaks at joints successfully identified during the trials," he said.
The trials have shown that Electroscan could potentially speed up the surveying of sewers prone to infiltration, help target repairs more effectively and reduce costs.