Thames Water to build first new sewage works since 2005
Thames Water's new chief operating officer has announced the company will build its first sewage works since 2005, in Guildford, Surrey.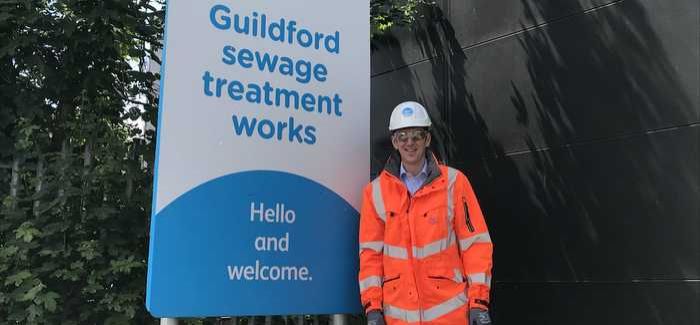 Steve Spencer at the treatment works at Guildford
Steve Spencer signed the deal with Guildford Borough Council today and explained how the new modern facility will cater for a growing population and eradicate odour while improving the local environment.
The new works will be built on brownfield land and replace the existing site which Guildford Borough Council will use for local housing. This will be the first new sewage works to be built by Thames Water since Reading STW opened more than 14 years ago.
Spencer, who starts as chief operating officer this month, said: "We're delighted to be involved in this regeneration project working with Guildford Borough Council to boost the town and local area. 
"The new sewage works will not only allow the development of Weyside Urban Village but will also have real benefits for our customers and businesses for generations to come. With the combination of climate change and population growth, modern facilities like the one planned for Guildford will help us meet future challenges across London and the Thames Valley head-on."
Spencer, the company's former chief delivery officer, takes over from Lawrence Gosden, who will move into a new asset management director role for the next 12 months. Both remain on the Thames Water executive team.
Ian Marchant, interim executive chairman, said: "I am delighted with their appointments. They bring a wealth of industry experience to their roles. We're all fully committed to our proposed business plan for 2020-25, focused on providing industry-leading customer service through a substantial investment programme."
Spencer joined Thames Water in 2012 and took up the executive role of chief delivery officer in April 2017. His earlier career included roles at Southern Water and MWH Australia. Gosden has held several executive positions since joining Thames Water in 2007 and previously held senior positions at Southern Water and South East Water. 
Thames Water's agreement with Guildford Borough Council is part of the Weyside Urban Village development which will help develop 41 hectares of brownfield land for the development of 1,500 new homes. The Surrey town's population is set to rise by more than 20,000 to 167,000 by 2034.