Thames Water steps up fight on FOG
Thames Water has launched a campaign to encourage food outlets to effectively manage waste fats, oils and grease (FOG).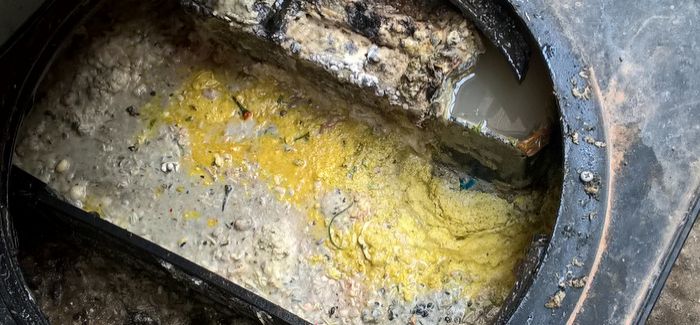 The campaign will mainly target restaurants and fast food retailers, after research carried out over the past two years in Oxford revealed 95% of food establishments visited were contributing to sewer blockages by having inadequate or no kitchen grease management.
Now Thames Water's dedicated network protection team will visit food outlets in fatberg hotspots to investigate their current grease management and inform them about responsibly disposing of waste FOG to help reduce blockages and flooding. Target areas have been identified from blockage data and the team will be operating across the entire Thames Water area.
Thames Water's head of waste networks, Steve Spencer, said: "There's a clear link between our fatberg hotspots and high concentrations of food outlets, so it's important we do all we can to help. We found most owners in the Oxford pilot didn't realise the consequences of their actions and were very willing to work with us to keep fat out of the sewers. The fat doesn't just affect our pipes but can also block private internal pipes before reaching the main sewer. Whether it's our pipes or a customer's that are affected, this can lead to properties being flooded with sewage which is horrible for anyone. For a food outlet, it's clearly a risk to their business."
Only 5% of the businesses surveyed in Oxford had the correct-sized grease traps installed and properly maintained. The traps, which fit to sinks and separate solid fats and oils from water to prevent them entering the sewers, protect the public sewer network and private pipes, and result in less disruption through deep underground repairs and maintenance.
During the visits, food outlet owners and managers will be provided with leaflets and posters explaining how they can dispose of FOG safely and reminded of their legal obligations to avoid putting the wrong things down the drain. Thames Water hopes to work with businesses to reduce blockages, however the company says it would consider cost recovery and prosecution in extreme cases as a last resort.
Spencer said: "This is a serious problem and it's not going away. Blockages and sewer flooding are not just an inconvenience – they can ruin peoples' homes, businesses and livelihoods. We can get tough when it comes to dealing with those responsible, if necessary, but once the food outlets understand the devastating impact their actions can have we're confident in most cases this type of formal action won't be needed."
In October 2016, a restaurant in Codsall near Wolverhampton was prosecuted by Severn Trent Water under section 111 of the Water Industry Act which states it is an offence to discharge anything into a sewer which may interfere with it flowing freely. The case, which saw the owner fined just over £5,000, was only the second of its kind in the UK.