Thames Water puts in a 'strong performance'
Thames Water Utilities has published its 2013-14 financial results, citing "very strong operational performance", with leakage down by one-third from 2004 and "an industry-leading" drinking water compliance score of 99.99%.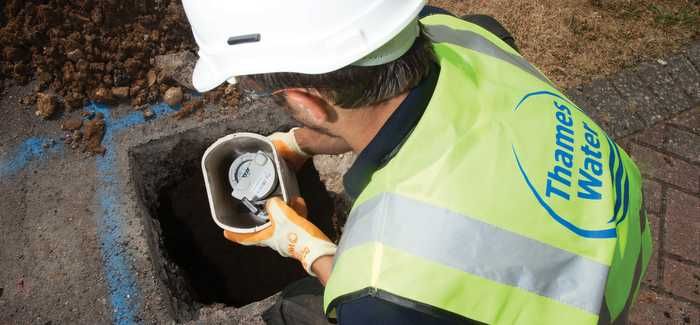 Thames Water's metering programme is targeting areas where it can be most effective first
The company said it has demonstrated a strong commitment to long-term improvements, investing more than £1.1B in infrastructure, including completion of the tunnelling phase of the £635M Lee Tunnel, which the firm said is on schedule to be in operation in 2015.
Chief executive Martin Baggs said: "Thames Water's service to our customers has improved this year; our drinking water is among the best in the world, average household bills have been kept low and we continue to make our infrastructure fit for the future with over a billion pounds of investment and upgrades. Leakage is now down a third over the past ten years, but requires constant attention and hard work – one of the reasons why we plan to spend a record £1.4B on improvements this year.
"The weather brought us substantial challenges, but despite demand for water reaching a 19-year high in the summer and flooding throughout much of our region in the winter, we got the network back to full operation quickly as a result of the dedication and commitment of our employees.
"We push forward into this next financial year in a strong position and with a commitment to continue to improve our customer service, which is still well below the industry average. Our focus will remain on agreeing our five-year business plan with the regulator, delivering best value and improved services for our customers and, now the government has specified the Thames Tideway Tunnel as a priority infrastructure project, we will work towards getting the best deal for our customers and the project."
A spokesperson told WWTOnline that the business plan "is based on the views of our customers, given in our widest-ever range of engagement activities". 
He said: "Among the feedback, customers told us they wanted us to maintain current performance, reduce leakage, be environmentally responsible and keep bills affordable.
"Other requirements included avoiding long interruptions to supplies, reducing sewer flooding, fixing urgent problems quickly and providing a social tariff for households least able to pay."
Thames Water has begun the roll-out of its metering programme in London. The spokesperson said: "We started in Bexley and our next borough is Greenwich. It will happen borough by borough, bit by bit, over time. 
"We've always said this is a large programme of works and we need to carry it out at a sensible pace between now and 2025, targeting the areas in London where we can be most effective first."