Thames Water makes energy-efficient bricks from sewage
Thames Water has found a way to use sewage to help create a material for carbon negative heavy-duty bricks.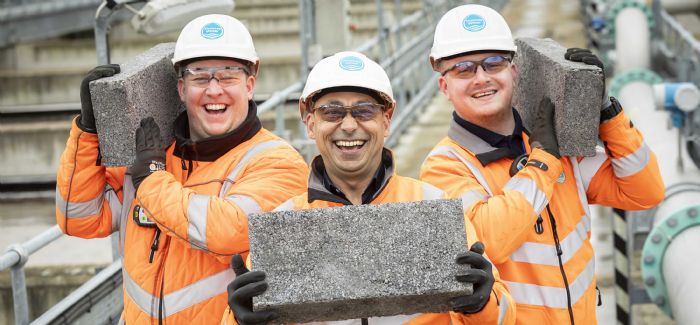 Every day, the waste of 4 million Londoners entering Europe's largest sewage works in Beckton is drained of water, with the leftover solids roasted in the company's waste-to-energy incinerator.
The high temperatures sanitise the waste and release heat for producing electricity on site. The leftover ash has – until now – been binned.
The innovation will see this dried residue ash reacted with carbon dioxide, water, sand and a small quantity of cement to form aggregate for individual breeze blocks, each weighing 17kg.
Thames Water's supply deal is expected to produce 18,000 tonnes of aggregate every year, enough for around 2.3 million construction blocks to be used in a range of property and business developments across the capital and beyond.
Nigel Watts, Thames Water's head of wastewater treatment, said: "We're transforming tonnes of waste from our sewage treatment process into a useful product, which can be used in construction in a variety of ways. It's amazing to think that what's flushed down the toilet could light up your bathroom and now help build homes, helping to support the huge growth predicted for our region.

"We're always looking for alternative, more sustainable ways to dispose of waste that avoids landfill and this is fantastic news for our customers, putting downward pressure on bills, and the environment, which we work hard to protect and enhance."

Using ash to produce synthetic aggregate locks in around 800 tonnes of CO2 and will replace 18,000 tonnes of natural resources being dug out of the ground annually, contributing to the UK's circular economy.
In addition, the synthetic aggregate is carbon beneficial as more CO2 is captured than is generated in the manufacturing process.

Last year, Yorkshire Water announced that it has begun transferring treated water from a wastewater treatment plant to construction solutions provider Tarmac to produce concrete.