Thames Water fixes leak losing 3 million litres a day
Thames Water has repaired an invisible leak deep underground in central London that was found to be losing up to three million litres of water a day.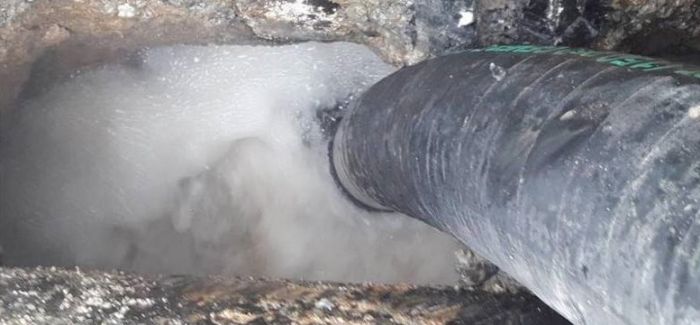 Thames Water said it was one of the biggest underground leaks the company had ever found
Water escaping from the 16-inch cast iron pipe buried 2.5 metres beneath Guildford Street, next to the historic Great Ormond Street Hospital, was discovered amid an intensive hunt for leaks across the capital's trunk main network.
Thames Water, which leaked 690 million litres of water leaked per day during the 2018-19 period, said it is currently uncovering a record number of leaks across London, with 39,000 being repaired in the last financial year – an increase of 30 per cent in nine years. Nearly 13,000 of these were on customer-owned pipes.
It took almost two weeks for the complex repair in Guildford Street to be carried out safely, with specialist teams working extended hours to minimise disruption for nearby residents.
Tim McMahon, head of water networks at the company, said: "We have dozens of teams working around the clock to find and fix leaky pipes right across our region, and this is an excellent example of the work they are doing.
"This is one of the biggest underground leaks we've ever found, and was great work by the teams to repair it. Three million litres a day is a significant amount, so we're delighted to have found it and plugged it."
Teams used state-of-the-art correlators and ground microphones to pinpoint the exact location of the leak, by listening for the sound of water and measuring the time delay between two points, before digging down to repair it.
Before it was fixed, the water was running down a void underneath the road, before flowing to a surface water sewer and back into the River Thames.
Thames Water has suspended dividend payments to its shareholders to prioritise investment and is spending more than £1 million every day to reduce leakage. It is fixing an average of 1,400 pipes every week and has pledged to reduce leakage by 15 per cent by 2025 to 509 million litres a day.
McMahon added: "Leakage is a top priority. We're determined to drastically reduce the amount of water that escapes from our pipe network to help protect customer supplies for now and future generations."
Thames Water's water pipe network stretches 20,000 miles, almost 2,000 miles of which are large trunk mains, supplying 10 million people with world class drinking water with the majority of pipes buried deep underground under busy roads, making leakage detection difficult.