Wipes blamed for Whitehall sewer 'fatberg'
Ever wondered what lurks beneath the powers that be in Whitehall? Well, Thames Water has found the answer - a fatberg! Located at the junction of Whitehall Place and Whitehall Court, London, the 'trunk' sewer takes waste away to the sewage treatment works in Beckton, east London.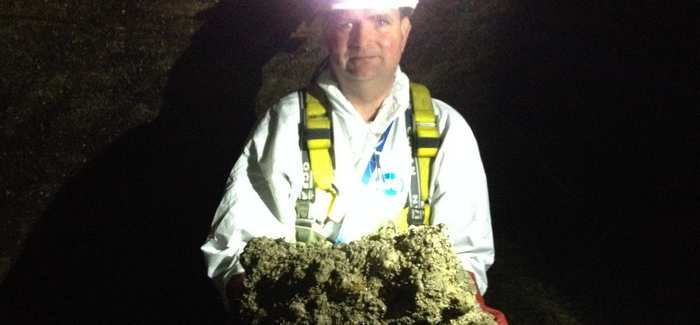 Sewer worker Tim Henderson holding a piece of fatberg he grabbed out of the 'river of fat'
The sewer is about 2m high and 1m wide, and extends for about 20m. It has been congealed with wet wipes, which Thames Water said are sold as 'flushable' but which do not break down in the sewers, forming hard lumps that block the sewer pipes.
However, Thames Water said Regent Street sewers feed into this trunk sewer which could go some way to explaining why there is so much fat as it comes from the restaurants and fast food places.
Dave Dennis, sewer manager for west London, said: "We find objects down the sewers every day that should not be there. Planks of wood, plastic bottles, and the bane of our lives – wet wipes. They may say flushable on the packet but they don't break down inside the sewer. They cling to cooled cooking fat and form fatbergs, which block pipes and flood our customers with sewage."
Thames Water spends £1M a month clearing fatbergs and blockages. It said clearing a fatberg like the Whitehall one is a large task particularly because of the sensitive location. To get equipment down to suck away the fat and jet the sewer walls to clean it usually means road closures and working at night to reduce traffic disruption.