Thames Water cracks down on water theft
Thames Water is cracking down on those who illegally connect and steal water from its vast network of pipes.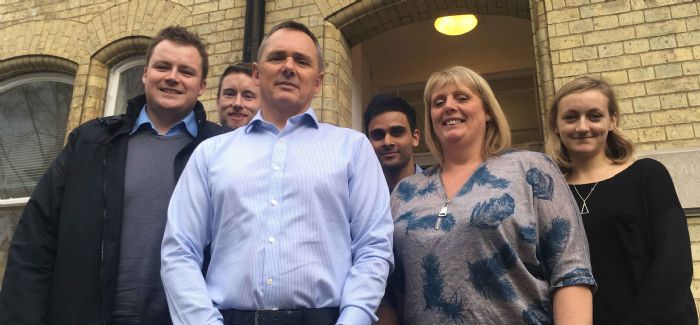 Pictured, from left, investigators Steve Johnston, Stuart Maggs, Stuart Orchard, Kailesh Gadhavi, Claire Rumens and Laura Scherer.
Led by a former police detective, a team of Pimlico-based investigators are patrolling London and the Thames Valley to find and, if necessary, prosecute after a dramatic crime spike. Over the last six years, unauthorised connections have skyrocketed from 33 in 2011 to 734 in 2017.
It is an important step forward by Britain's biggest water company as any unaccounted-for water is classed as leakage in end-of-year performance tables.
Ex-Surrey Police detective Stuart Orchard, Thames Water, said: "We're not out to get people, but it's against the law to dig up the road, find our water mains and illegally connect to our network.
"Thousands of litres of drinking water are lost every day. Therefore, to help protect water supplies for future generations and gain a greater control of our network, it's vitally important we find and stop the people doing this.
"I would encourage anyone who thinks there might be suspicious water usage taking place near them to join this fight against water crime and contact us immediately."
Last month, cleaning firm Hydro Cleansing pleaded guilty to 18 offences in Croydon and Reading under the Water Industry Act (WIA) 1991 after illegally connecting standpipes to the network. The company was ordered to pay fines and costs totalling almost £15,000.
Investigator Claire Rumens, formerly of Kent Police CID, added: "People should follow the correct procedures, not strike cash-in-hand deals with rogue traders.
"If we're notified of an illegal connection or any illegal activity, we will investigate and potentially go in and disconnect the supply. We try to work with our customers to put things right, and show them how it should be done. But if they continue to abuse the network we do have the power to prosecute, and we will."
The team had previously taken Kilgannon Street Care to court in September. They were seen on four occasions to be connecting an unlicensed standpipe to a fire hydrant in Battersea, and using thousands of litres to clean the streets.
The firm's director admitted 12 offences under the WIA and was ordered to pay more than £5,000 in fines and costs.
Reducing leakage is a top priority for Thames Water and the company has significantly increased investment this year. The company says its teams are working harder and smarter to create a more resilient network while minimising costs and disruption to customers.
For further information, visit the Thames Water website.